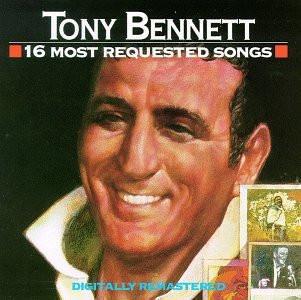 Tony Bennett
Tony Bennett - 16 Most Requested Songs
16 Most Requested Songs 
By  Tony Bennett        
Very Good Condition
16 Most requested Songs is a nice, budget-priced collection of Tony Bennett's hits that provides an adequate introduction, but it is far from a definitive collection.
Also:
16 Most Requested Songs by Tony Bennett gives us sixteen of Tony's greatest hits--and most requested songs, too! The sound quality is really good and it baffles me that this album is currently out of print. The artwork is great, too.

"Stranger In Paradise" gets the royal treatment from Tony who sings this passionately with a fine musical accompaniment. The backup vocalists harmonize so well and Tony never misses a beat! "Rags To Riches" was always one of my favorite Tony Bennett songs; it makes me smile when I hear this and I predict that you'll enjoy "Rags To Riches" also. Listen also for "Just In Time:" Tony does so well on this that you really get the sense of the wonderful operatic qualities of his voice. Great!

"I Left My Heart In San Francisco" is, of course, a Tony Bennett standard; and he gives this the royal treatment a ballad this fine deserves. Tony sings this with exceptional sensitivity and his delivery is flawless. What a great number! "I Wanna Be Around" is a stunning love ballad that will make you want to dance with your sweetheart; the arrangement for the piano is excellent and Tony sing this so well it can break your heart.

"For Once In My Life" has Tony performing a very well done cover of the famous Stevie Wonder song; this gets a much slower tempo than Stevie gave it but it all works very well and this shines like gold when Tony sings it! Stevie would be proud. In addition, "Smile" stuns me with its beauty; Tony delivers this with panache and all the gracefulness of a highly polished entertainer.

"Tender Is The Night" has a great arrangement for the strings as Tony sings this well; and "The Shadow Of Your Smile" is wonderfully romantic when Tony Bennett performs it! Tony handles the subtle tempo and key changes effortlessly; this impresses me a lot.

The theme from Love Story sounds fresher than I've ever heard it; and I think you'll enjoy this also. The CD ends strong with Tony delivering "The Good Life" beyond perfection. "The Good Life" leaves you wanting more--don't be surprised if you immediately want to play this entire CD all over again the instant it ends!

Tony Bennett remains one of the world's greatest entertainers ever; and we are all better off for his sharing his talents with us.
Track Listing
Because Of You

Stranger in Paradise
Rags to Riches
The Boulevard of Broken Dreams
Cold, Cold Heart
Just in Time
I Left My Heart in San Francisco
I Wanna Be Around
Who Can I Turn To (When Nobody Needs Me)
For Once in My Life
This Is All I Ask
Smile
Tender Is the Night
The Shadow of Your Smile
(Where Do I Begin) Love Story
The Good Life
---
More from this collection