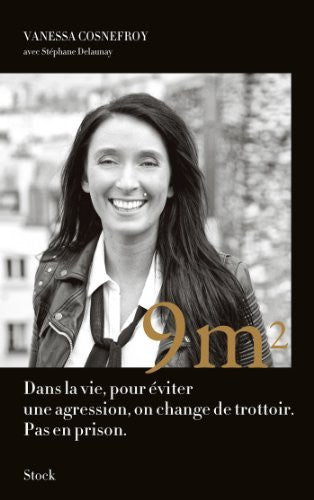 Vanessa Cosnefroy
9 m2: Dans la vie pour éviter une agression, on change de trottoir. Pas en prison. - By: Vanessa Cosnefroy
9 m2: Dans la vie pour éviter une agression, on change de trottoir. Pas en prison.
By Vanessa Cosnefroy
Good + Condition.( Cover has light wear with one lightly crease corner. Blank, white book plate on back end page. Text is clean and unmarked.)
9 m2, c'est la superficie réglementaire d'une cellule de prison. De vingt-trois à vingt-huit ans, de Limoges aux Baumettes, dans un sidérant tour de France pénitentiaire, pas moins de dix maisons d'arrêt, Vanessa Cosnefroy découvre l'absurdité de l'univers carcéral. Son crime ? Son si grand crime qui lui vaut d'avoir passé tout ce temps dans la violence et l'ensauvagement aux côtés de criminelles endurcies ? Une escroquerie en bande organisée, une fraude aux banques avec son cortège de chèques falsifiés et ses récidives.
Ce témoignage, écrit dans une prose âpre, drôle parfois, tragique, est absolument unique dans la littérature carcérale : une voix de femme, une boule d'énergie pure, de violence, de vitalité, l'initiation d'une apprentie voleuse qui réagit au quart de tour, se cabre et qui, au fil d'une descente aux enfers progressive, ponctuée parfois de lumineuses rencontres, gardiennes ou codétenues, finit par trouver un peu d'humanité et, pourquoi pas, une forme de rédemption.
---
More from this collection