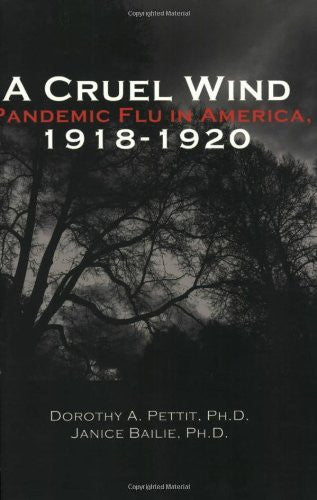 Dorothy A Pettitt PHD
A Cruel Wind: Pandemic Flu in America 1918-1920 - By: Dorothy A Pettitt PHD
 A Cruel Wind: Pandemic Flu in America 1918-1920 -

By: Dorothy A Pettitt PHD
Very Good Condition. Obviously lightly read.
The flu pandemic that began in 1918 touched with illness virtually every family in America. It was a devastating time, far overshadowing the carnage of World War I as the pandemic killed more people in less time than any disease before or since. With 25% to 30% of the worlds population having clinically apparent illnesses and a mortality rate of 2.5% - 5%, it is believed that more than 675,000 Americans were among the 50-100 million that died worldwide. Because many experts believe that it is not a matter of if the world will encounter another 1918-like flu pandemic, but when, this social history of the pandemic should be considered essential reading for students, public health officials, doctors, nurses, journalists, and those in government office, interested in learning what workedand didntduring that grim time.
Editorial Reviews
About the Author
After a thirteen-year career as a registered Medical Technologist, Dr. Pettit returned to college to pursue a career in the academic world. Focusing on early 20th century American History, she earned her B.A., M.A. and Ph.D. in History from the University of New Hampshire. After teaching at New Hampshire College and the University of New Hampshire, Dr. Pettit has retired and lives in Hamden, Connecticut.
 Product details
Hardcover:323 pages
Publisher:Timberlane Books (June 30, 2008)
Language:English
ISBN-10:0971542813
ISBN-13:978-0971542815
Product Dimensions: 4 x 6.2 x 1 inches
Shipping Weight:1 pounds
---
More from this collection