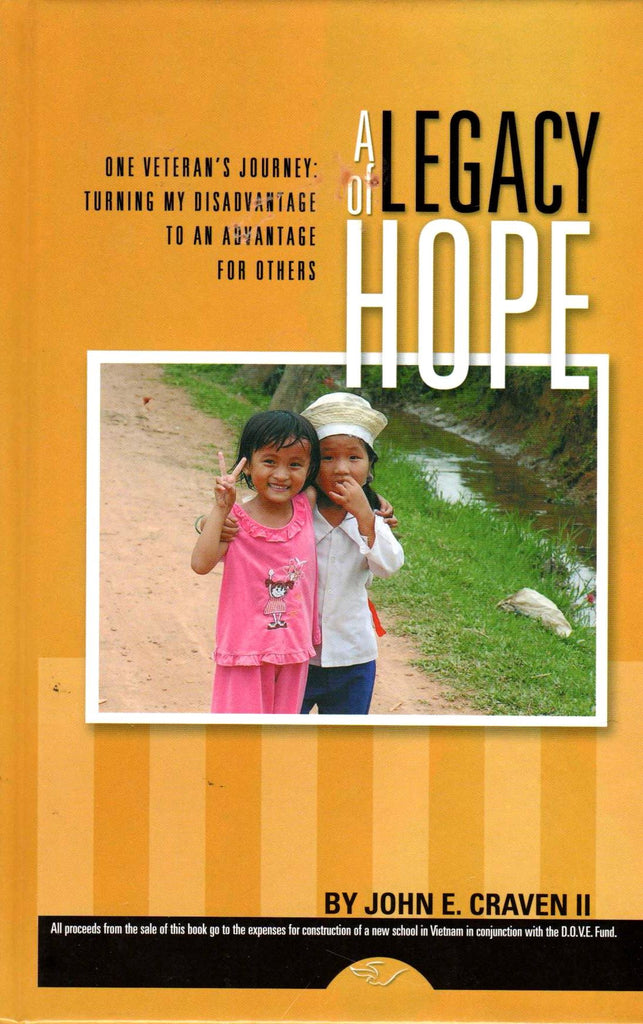 John E. Craven II
A Legacy of Hope - One Veteran's Journey: Turning My Disadvantage to an Advantage for Others - By: John E. Craven II
A Legacy of Hope One Veteran's Journey: Turning My Disadvantage to an Advantage for Others
By: John E. Craven II
COLLECTIBLE. SIGNED by AUTHOR. VERY +++ Good Condition. Pages are clean and unmarked. Pictorial hard cover. No dust jacket, if issued with one.
 On the front cover of A Legacy of Hope: One Veteran's Journey: Turning my Disadvantage to an Advantage for Others ( Walsworth Publishing Company, hardcover)  we are told, "All the proceeds from the sales of this book go to the expenses for construction of a new school in Vietnam in conjunction with the D.O.V.E. Fund." Two very cute little Vietnamese kids are pictured on the cover.  One is making the "V" for victory sign.
The author, John E. Craven II, a member of VVA Chapter 259 in Michigan, served in the U. S. Army from 1968-1970. He was in Vietnam with Company A of the 70th Combat Engineer Battalion in 1969 near the village Khanh Duong. Craven's a member of the Southpoint Community Christian Church and  of the Board of Trustees of the D.O.V.E. (Development of Vietnam Endeavors) Fund, a non-profit humanitarian group that works with "the poorest people of Vietnam."
Much of the colorful little book is told with photos, or at least reinforced by them. Most of those photos and most of the book cover Craven's trip back to Vietnam with people associated with the Fund and its wide-ranging bus tour of the country. A few pages near the beginning tell us about Craven's tour of duty and his disappointment with how he was treated as a returning veteran, as well as his recourse to alcohol to deal with the rejection he felt by his country.
Like most of us, though, John Craven surmounted his readjustment problems. He got his college degree and established a family and a career.
A Legacy of Hope is the healing story of Craven's involvement with the D.O.V. E. Fund, which has raised a million and a half dollars. The Fund uses all of that money to build schools in Vietnam, as well as to fund scholarships, medical care and disaster relief. To date, D.O.V.E. has built more than forty schools, including nursery schools,  daycare centers, elementary schools, and junior high school, Craven is most closely associated with the building of the junior high, a tribute to George C. Davenport, Jr., Wayne Robert Elkins, Sr., and William F. McLaughlin,  three men he served with in Vietnam who died in the war.
The book is offered at no charge for those who donate any amount to the D.O.V.E. fund. So, if you want to make a difference and do something positive for the Vietnamese people, send a check to The D.O.V.E Fund at PO Box 350741, Toledo, OH  43635. You can also contribute via the group's website,  www.dovefund.org 
John Craven's book moved me to do so. That's how powerful it is.
The author's website is http://www.jecraven.com
—David Willson
---
More from this collection