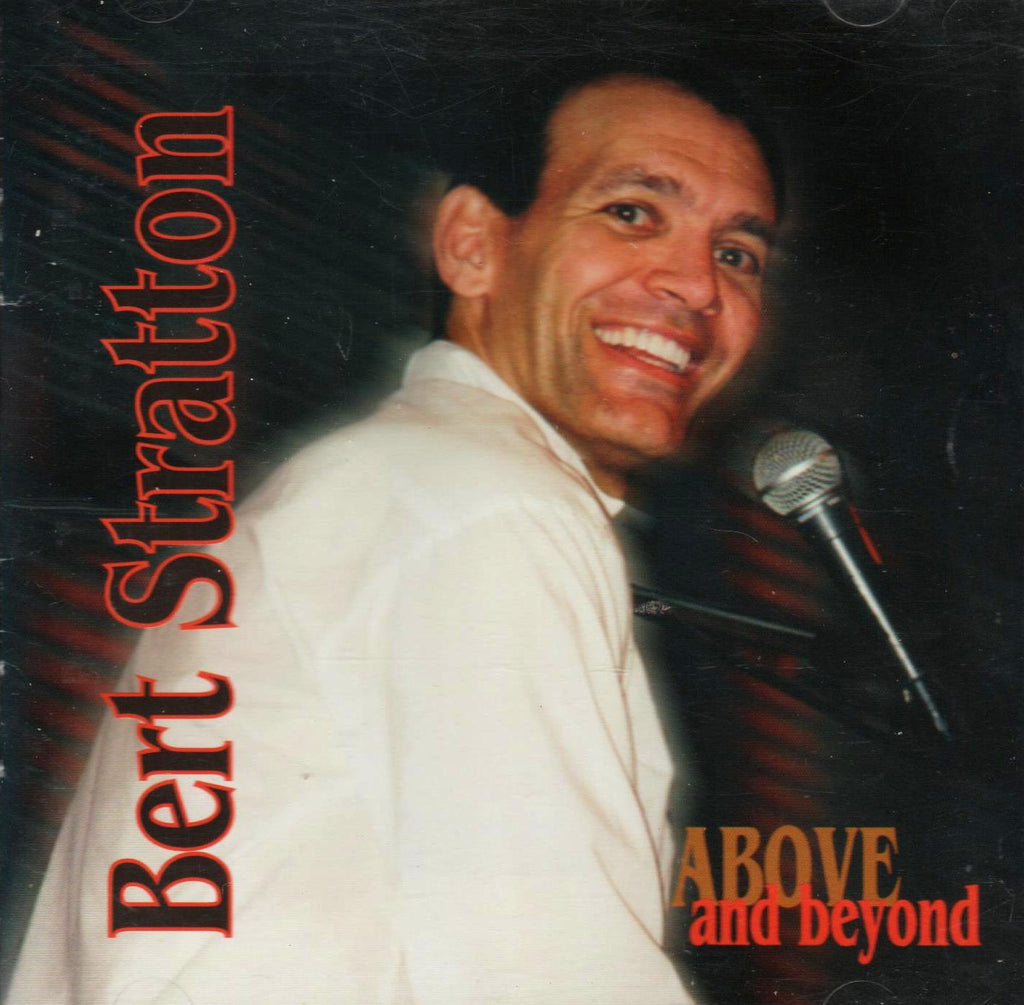 Bert Stratton
Bert Stratton - Above and Beyond
Above and Beyond
By Bert Stratton
 Very Good Condition: (CD, Jewel Case, and Original Artwork are in Very Good shape) 
 Bert Stratton is a multi-talented performer reminiscent of young Victor Borge with  a dash of Jim Carey. Bert is also a phenomenal singer who has, while mastering many styles, a style that is uniquely all his own.
    Bert was born and raised in Upstate New York. His passion for music started at an early age and was inspired by his visiting Aunt Olive from New York City who would play the piano and sing in the living-room while the whole family gathered round. Once the love of music got a hold of Bert it never let go. He started piano lessons at 7 years of age and studied for 4 years. After learning how to read music, young Bert discovered he had a natural gift for playing by ear. He has been self-taught ever since.  His natural sense of rhythm was further developed by 11 years of percussion study, which took him through high school, and into college where he studied music education. Bert's insatiable hunger for music led him to the guitar, the harmonica, and in college, the majority of band instruments. While he showed great promise as a music teacher, his heart was set on performing.
True to his roots, he transforms the lounge in which he plays into a magical living-room where the audience becomes a family. Bert has performed all over the world and lived in some of the most famous music centers such as Nashville Tennessee and Austin Texas. Recently he has been recruited by the cruise line industry most notably Princess Cruises.  Bert Stratton is not only an accomplished singer, musician and a remarkable performer, he is also a brilliant writer who shares his life experience through his original songs, many of which are recorded on his 2 CD's "One & Only" and "Above & Beyond". He has also been published numerous times in the choral field by Shawnee Press and Lorenz music.
    Bert's career has taken an unexpected turn as of late. Pat Boone, recently recorded Bert's song Ready to Rock and made it his title track.   Bert has also been receiving airplay on his CD's in several stations in Alabama , Pennsylvania, and  Tennessee, Chattanooga being the most recent. He's even been played in the UK. In addition Bert has sold over 10,000 CDs.  Who knows what the future will bring, but it's safe to say in Bert's case it will be by far Above and Beyond his or anyone's greatest expectations!
Track Listing:
Bert Stratton - Name it and it's Yours (03:41)
Bert Stratton - Ready to Rock (03:24)
Bert Stratton - It Won't Matter at All (04:08)
Bert Stratton - Don't Be Surprised (04:30)
Bert Stratton - There's Nobody Else (03:40)
Bert Stratton - We're All Country (03:03)
Bert Stratton - Above and Beyond (03:41)
Bert Stratton - Thank You (03:03)
Bert Stratton - Sad and Empty Place (04:42)
Bert Stratton - Ridin the Wind (04:10)
Bert Stratton - Settle for the Moon (03:34)
Bert Stratton - God's Honest Truth (03:41)
Bert Stratton - One and Only (03:09)
---
More from this collection