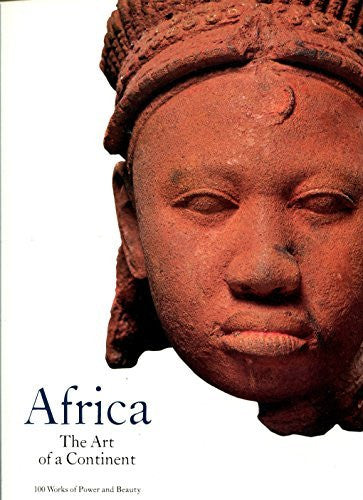 Guggenheim Museum
Africa: The Art of a Continent: 100 Works of Power and Beauty - By: Guggenheim Museum
Africa: The Art of a Continent: 100 Works of Power and Beauty
 By: Guggenheim Museum
Very +++ Good Condition. (Obviously gently read. A tiny bit of wear to cover corners.).
Editorial Reviews
From Library Journal
Associated with an exhibition at the Guggenheim Museum, this book provides a survey of 100 visually spectacular objects from Africa. As befits current thinking, the catalog (and exhibition) surveys the entire continent, including ancient Egypt and Nubia and north and northwestern Africa as well as the sub-Saharan region. Each object is reproduced in color and accompanied by extensive catalog entries written by over 60 expert contributors. The catalog section is preceded by five essays contributed by major scholars in the field. The essays discuss the nature of African art and its appreciation. Gates's article on the ambivalence displayed by 20th-century Western appreciation and Suzanne Blier's essay on the myths and misconceptions surrounding African art are especially valuable contributions. Highly recommended for any library with an interest in African art.?Eugene C. Burt, Art Inst. of Seattle Lib.
Copyright 1996 Reed Business Information, Inc.
From the Publisher
The contents are arranged geographically in a 'grand tour' that divides the continent into seven areas. Beginning with Ancient Egypt and Nubia, the tour proceeds through Ethiopia and the Sudan to the eastern coast and southern Africa, then moves up through central Africa to the coastal areas of west Africa and the countries of the sub-Saharan region. The survey ends in northern Africa, coming full circle with a discussion of Egypt in its Christian and Islamic periods.
Within each of these seven sections objects are arranged in broadly chronological order. They demonstrate the wide range of styles in African art, inspired by different religions and cultures, and the equally astonishing variety of materials, from dung to gold and including bronze, ivory and terracotta, as well as superb wood-carvings from all over the continent. Works of art from major public and private collections in Europe and the USA are juxtaposed with the finest from Africa itself. --This text refers to an out of print or unavailable edition of this title.
Product details
Hardcover:191 pages
Publisher:Solomon R Guggenheim Museum (September 1996)
Language:English
ISBN-10:0810968940
ISBN-13:978-0810968943
Product Dimensions: 1 x 10 x 12.2 inches
Shipping Weight:8 pounds
---
More from this collection