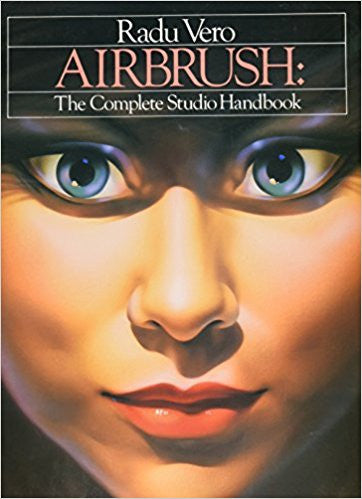 Radu Vero
Airbrush - Complete Studio Handbook - By: Radu Vero
Airbrush - Complete Studio Handbook By: Radu Vero
Very Good Condition. Clean, bright and unmarked. VG dust jacket.
Learn the materials, mediums, and methods for the creative use of this versatile tool - from photographic retouching to fine art.
A Review:
Even though this book is a little dated, it came highly recommended by others in an airbrush forum that I regularly frequent. I've found it to be a great primer on general background technical knowledge of color, paint, and light theory that's concise and consumable by a non-scholar of art/science. It's just enough to let you know why you need to know the background, while not getting bogged down in it. The rest of the book is laid out in a way that really helps a beginner/intermediate do exercises and/or learn techniques that get your learning curve cut down. Like everyone else I've looked at a lot of online videos, but this book is a great way to fill in the gaps that video tutorials don't even cover. It moves from beginner to advanced techniques, and covers a variety of styles that people may be focused on doing. Lastly it wraps up with a nice gallery of work from a variety of airbrush artists of differing styles and it's both wow and inspiring. The reason for 4 stars (instead of 5) is that by being dated, it doesn't cover some of the newer equipment and paints, so that doesn't fully help someone that's looking for help deciding on specific equipment to buy, but honestly there is a lot of information in other places and the book stands on its own as a good reference everyone should have just on the technical and technique content.
Product details
Paperback:192 pages
Publisher:Watson-Guptill (September 1, 1997)
Language:English
ISBN-10:0823001695
ISBN-13:978-0823001699
Product Dimensions: 3 x 0.3 x 11 inches
Shipping Weight:3 pounds
---
More from this collection