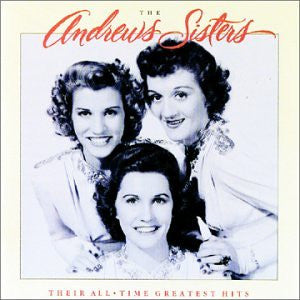 Andrews Sisters
Andrews Sisters - Their All-Time Greatest Hits
Andrews Sisters - Their All-Time Greatest Hits
CD's are in very good condition.  (2 Cd Set. Some Notations in ink on the inside of the back insert. Jewel case has light scruffs. )
 These brilliant sisters clocked up well over 100 hits in the American charts, sometimes in duets with others. No compilation could possibly contain all of them, but most of them have been made available on CD. To acquire as many as possible, I have collected several compilations of their music, but this is my favorite, because it contains all the famous songs and comes with extensive liner notes. Sadly, it appears to be out of print as I review this.

Among the classic songs here are their number one hits Bie mir bist der schoen, Ferryboat serenade, Shoo-shoo baby, Don't fence me in (with Bing Crosby), Rum and cocoa cola, I can dream can't I and I wanna be loved. The last two are billed as Patty Andrews solo, but LaVerne and Maxene sing backup. As Patty was the lead singer anyway, the difference between a Patty Andrews solo and an Andrews sisters record is not obvious. Another famous song here is Beer barrel polka (Roll out the barrel).

Although they recorded some ballads, the best and most famous of which is I'll be with you in apple blossom time, their speciality was upbeat, swinging songs. You might think that these would be similar to each other, but the sources for their songs were many and varied, including songs of European and Mexican origin.

What made them unique in mainstream pop was their recording technique. Almost all their singing was a capella, with musicians playing their instruments when the ladies weren't singing. On those occasions where musicians did play as they sang, their playing was very restrained. This was even true on their duets, including those with Bing. The musicians play while Bing sings, but as soon as the sisters start to sing, the musicians stop.

If you only want one Andrews sisters collection and you don't want more than a doublr-CD, this is the one to buy if you can find it.

Jasmine Records in the UK have released a 4-CD box (Golden age) to go with eheir double CD (Now is the time). I haven't checked the track listing of Golden age, but I suspect that Jasmine may have provided what Andrews sisters fans have long awaited - a comprehensive hits package.
Track Listings
1. Bei Mir Bist Du Schon (means You're Grand)
4. Hold Tight (Want Some Sea Food Mama)
5. Beer Barrel Polka (Roll Out The Barrel)
6. Well All Right (Tonight's The Night)
7. Oh Johnny, Oh Johnny,Oh
8. Say 'Si Si' (Para Vigo Me Voy)
10. Beat Me Daddy,Eight To The Bar
11. Boogie Woogie Bugle Boy
12. I'll Be With You In Apple Blossom Time
15. The Shrine Of Saint Cecilia
16. Don't Sit Under The Apple Tree (With Anyone Else But Me)
23. (There'll Be A) Hot Time In The Of Berin (When The Yanks Go Marching In)
24. Is You Is Or Is You Ain't (My Baby)
3. Ac-Cent-Tchu-Ate The Positive
4. Along The Navajo Trail
5. South America,Take It Away
8. Civilization (Bongo,Bongo,Bongo)
9. The Lady From 29 Palms
12. Toolie Oolie Doolie (The Yodel Polka)
15. You Call Every Darling
18. She Wore A Yeollow Ribbon
22. A Penny A Kiss,A Penny A Hug
---
More from this collection