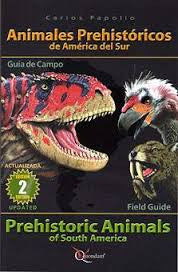 Carlos Papolio,
Animales Prehistoricos de America del Sur
Sale price
$53.98
Regular price
$55.00
Animales Prehistoricos de America del Sur  By: Carlos Papollo
Spanish Edition
Very Good Condition  ( Tight binding. Clean, bright and unmarked. Obviously barely read.)
ANIMALES PREHISTORICOS DE AMERICA DEL SUR
PREHISTORIC ANIMALS OF SOTH AMERICA
Se presentan de 315 especies de invertebrados y vertebrados desde el período Cámbrico, hace 500 millones de años, pasando por dinosaurios, terápsidos, reptiles, pterosaurios, y aves. También la megafauna del Pleistoceno que vivió hasta hace 10 mil años en el continente sudamericano. Una iconografía de simple lectura facilita la comprensión de tamaños, ambientes y alimentación de cada una de las especies tratadas. Tablas de eras geológicas, paleomapas y un glosario completan la obra de cómodo formato.
---
More from this collection