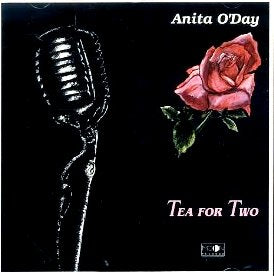 Anita O'Day
Anita O'Day - Tea For Two
Tea For Two
By Anita O'Day
Very Good Condition
About Anita O'Day
Few female singers matched the hard-swinging and equally hard-living Anita O'Day for sheer exuberance and talent in all areas of jazz vocals. Though three or four outshone her in pure quality of voice, her splendid improvising, wide dynamic tone, and innate sense of rhythm made her the most enjoyable singer of the age. O'Day's first appearances in a big band shattered the traditional image of a demure female vocalist by swinging just as hard as the other musicians on the bandstand, best heard on her vocal trading with Roy Eldridge on the Gene Krupa recording "Let Me Off Uptown." After making her solo debut in the mid-'40s, she incorporated bop modernism into her vocals and recorded over a dozen of the best vocal LPs of the era for Verve during the 1950s and '60s. Though hampered during her peak period by heavy drinking and later, drug addiction, she made a comeback and continued singing into the new millennium.
Born Anita Belle Colton in Chicago, she was raised largely by her mother, and entered her first marathon-dance contest while barely a teenager. She spent time on the road and occasionally back at home, later moving from dancing to singing at the contests. After bad experiences amid brief tenures with Benny Goodman and even Raymond Scott, O'Day earned a place in Gene Krupa's band in 1941. Several weeks later, Krupa also hired trumpeter Roy Eldridge, and the trio combined to become an effective force, displayed on hits like "Let Me Off Uptown," "Boogie Blues," and "Just a Little Bit South of North Carolina." She spent a brief period away from Krupa with Woody Herman, but returned to the band, only to have it break up by 1943. After moving to Stan Kenton, she starred on Kenton's first big hit, 1944's "And Her Tears Flowed Like Wine." Another stint with Krupa presaged her solo debut in 1946, and with drummer John Poole as her accompanist, she recorded a moderate hit one year later with the novelty "Hi Ho Trailus Boot Whip."
Her career really ignited after her first album, 1955's Anita (also known as This Is Anita). Much more successful in the jazz world than she was in its pop equivalent, she performed at jazz festivals and jazz-oriented concerts, appearing with figures including Louis Armstrong, Thelonious Monk, and George Shearing. Her performance at 1958's Newport Jazz Festival made her fame worldwide after being released on a film titled Jazz on a Summer's Day.
O'Day's series of almost 20 Verve LPs during the '50s and '60s proved her to be one of the most distinctive, trend-setting, and successful vocal artists of the time, arguably surpassed only by Frank Sinatra and Ella Fitzgerald. She worked with a variety of arrangers and in many different settings, including a hard-swinging Billy May collaboration (Anita O'Day Swings Cole Porter with Billy May), an excellent, intimate set with the Oscar Peterson Quartet (Anita Sings the Most), several with the mainstream Buddy Bregman Orchestra (Pick Yourself Up, Anita), one with the cool-toned Jimmy Giuffre (Cool Heat), and a Latin date with Cal Tjader (Time for Two) as well as a collaborative LP with the Blue Note instrumental trio the 3 Sounds. Even by the early '60s, however, her ebullient voice had begun sounding tired. The cumulative effects of heroin addiction, its resulting lifestyle, and a non-stop concert schedule forced her into a physical collapse by 1967.
After taking several years to kick alcohol and drug addictions, she made a comeback at the 1970 Berlin Jazz Festival and returned in the early '70s with a flood of live and studio albums, many recorded in Japan and some released on her own label, Emily Records. Her autobiography, 1983's High Times, Hard Times was typically honest and direct regarding her colorful past. Though her voice gradually deteriorated, O'Day recorded throughout the 1970s and '80s, remaining an exciting, forceful vocalist on record as well as in concert. She slowed down considerably during the '90s, and appeared only occasionally. She re-emerged in 2006 with a new album (Indestructible!), recorded during the previous two years, but passed away in November of that year due to the effects of pneumonia and advanced Alzheimer's disease. ~ John Bush
 Tracklist
3.   THEY CAN'T TAKE THAT AWAY FROM ME
4.   HAVE YOU MET MISS JONES
8.   HAVE YOU MET MISS JONES
15.  THEY CAN'T TAKE THAT AWAY FROM ME
---
More from this collection