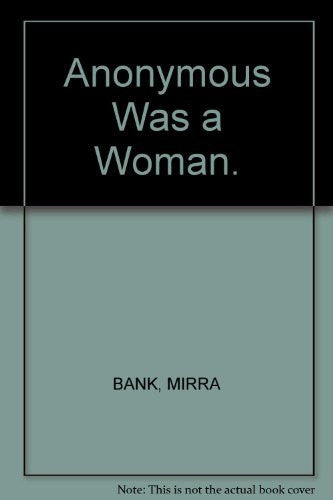 Mirra Bank
Anonymous Was a Woman.
Anonymous Was a Woman.       By:  Mirra Bank
Good Condition  (Some corner wear and edge wear to soft cover. Tiny spot on an exterior page edges. No underlining or highlighting)..
Traditional American art of the 18th and 19th centuries is largely the product of anonymous women. Rarely aware of themselves as artists, wholly occupied with raising children, running farms and homes, these women yet ornamented every phase of their experience from girlhood to old age and expressed all they knew about life and art in decorative handiwork of astonishing beauty. Enriching and amplifying material used in her highly praised film of the same title, Mirra Bank adds immeasurably to our understanding of this art so deeply woven into the texture of women's everyday lives. She juxtaposes richly-colored reproductions of samplers, paintings, quilts, and need-pictures with etiquette books, ladies' magazines, and poignant excerpts from diaries and letters of generations of girls and women. The result is a potent and poetic revelation, unique in its immediacy, of the daily experience and inner lives of women who, in acts of love and duty, created so many masterpieces of American folk art."
---
More from this collection