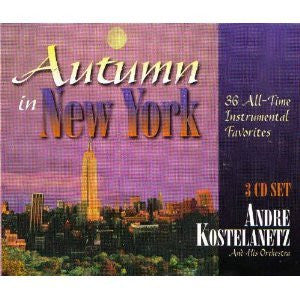 Andre Kostelanetz
Andre Kostelanetz - Autumn In New York
Autumn in New York, by  Contains 3 CD's.
By Andre Kostelanetz.
Good Condition. (Jewel case is in good condition with light scruffs. 3 CD's are in very good condition)
Abram Naumovich Kostelyanetz was born in Saint Petersburg, Russia to a prominent Jewish family. He was a cousin of physicist Lew Kowarski. His father, Nachman Yokhelevich (Naum Ignatyevich) Kostelyanetz was active on St. Petersburg stock exchange; his maternal grandfather, Aizik Yevelevich Dymshitz, was a wealthy merchant and industrialist, engaged in timber production. Kostelanetz escaped in 1922 after the Russian Revolution.
 He arrived in the United States that year, and in the 1920s, conducted concerts for radio. In the 1930s, he began his own weekly show on CBS, Andre Kostelanetz Presents. Kostelanetz was known for arranging and recording light classical music pieces for mass audiences, as well as orchestral versions of songs and Broadway show tunes. He made numerous recordings over the course of his career, which had sales of over 50 million and became staples of beautiful music radio stations. For many years, he conducted the New York Philharmonic in pops concerts and recordings, in which they were billed as Andre Kostelanetz and His Orchestra.
 Andre Kostelanetz may be best known to modern audiences for a series of easy listening instrumental albums on Columbia Records from the 1940s until 1980. Kostelanetz actually started making this music before there was a genre called "easy listening"[citation needed]. He continued until after some of his contemporaries, including Mantovani, had stopped recording.
 Outside the United States, one of his best known works was an orchestral arrangement of the tune "With a Song in my Heart", which was the signature tune of a long-running BBC radio program, at first called Forces Favourites, then Family Favourites, and finally Two Way Family Favourites.
 He commissioned many works, including Aaron Copland's Lincoln Portrait, Jerome Kern's Portrait of Mark Twain, William Schuman's New England Triptych, Paul Creston's Frontiers, Ferde Grofé's Hudson River Suite, Virgil Thomson's musical portraits of Fiorello La Guardia and Dorothy Thompson, Alan Hovhaness's Floating World, and Ezra Laderman's Magic Prison. William Walton dedicated his Capriccio burlesco to Kostelanetz, who conducted the first performance and made the first recording, both with the New York Philharmonic.
 His last concert was A Night in Old Vienna with the San Francisco Symphony Orchestra at that city's War Memorial Opera House on December 31, 1979.
Volume 1:
Ebb Tide,
Manhattan,
I Cover the Waterfront,
That old black magic,
Small world,
Being Alive,
Till there was you,
That's an Irish lullaby,
Rambling Rose,
Folls rush in,
I'm in the mood for love,
Love is a many-splendored thing.
Volume 2:
At long last love,
Love is blue,
The nearness of you,
Fascinatin Rhythm,
September of my years,
I'll never say no,
Moon river,
If ever I would leave you,
Gigi, Stella by starlight,
Try a little tenderness,
Cabaret.
Volume 3:
The rain in Spain,
Autumn in New York,
I'm always chasing rainbows,
I believe in you,
Tenderly,
My favorite things,
Laura,
Don't blame me,
You made me love you,
September song,
Mame,
Fly me to the moon.
---
More from this collection