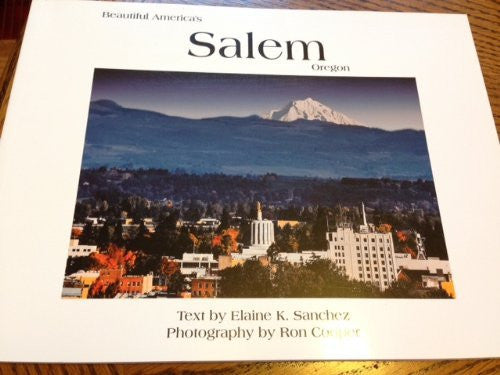 Elaine K. Sanchez
Beautiful America's Salem, Oregon
Images of Salem, Oregon. By:  Elaine K. Sanchez
Very Good Condition  (Collectible Inscription by Author, Elaine Sanchez, to former owners. . Blank white name plate on front inside end paper. Clean and unmarked glossy pages. Cover shows very light corner wear. Lovely photographs of Salem, Oregon. Binding is excellent)
Elaine K Sanchez is an author, speaker and co-founder of CaregiverHelp.com, an online caregiver support program. Her keynotes and workshops are based on her unflinching honest and surprisingly funny book, "Letters from Madelyn, Chronicles of a Caregiver."

Together with her husband, Dr. Alex Sanchez, Elaine developed the curriculum for "Gero-407–Caregiving," which was taught at Western Oregon University. The couple has also created a number of online continuing education courses for nurses, long-term care administrators, and mental health professionals.

Elaine writes the blog, Caregiver Help Word of the Day, which is carried on her website, CaregiverHelp.com, as well as numerous free-lance articles for magazines and other online publications. She has personally experienced the emotional stress of caring for loved ones who will never get better, but, like her mother, she knows caregiving is entirely too difficult to take seriously all of the time. She is a gifted story-teller who is passionate about helping others find hope, humor, and heart in caregiving.
---
More from this collection