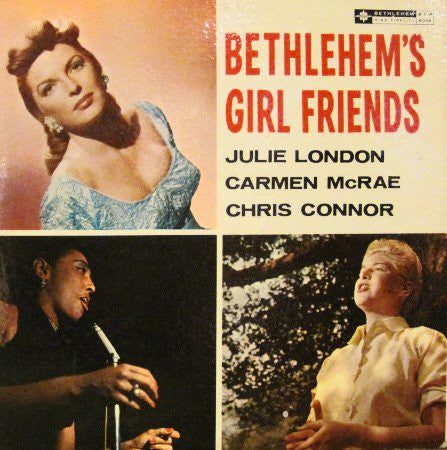 Julie London, Carmen McRae, Chris Connoor
Julie London, Carmen McRae and Chris Connor. - Bethlehem's Girl Friends
Regular price
$225,038.98
Bethlehem's Girl Friends.  
Featuring Julie London, Carmen McRae and Chris Connor.
Good + Condition. (Front insert has a light crease. Cd and jewel case are in VERY good condition)
From the back cover: Luckily for Bethlehem, its catalogue is rich enough to produce material by these three artists to make-up this wonderful sampling of their varied styles.
 And lucky for us as this is one excellent compilation album. The track selection by Bethlehem is perfect. The featured tunes are hand-picked for their quiet, jazzy subtle and emotional depth. They play off one another extremely well. I don't normally collect popular pop compilations but if you enjoy anyone of these ladies, this collection will likely strike you as amazing.
 TRACK LIST
It's All Right With Me - Chirs
Tip Toe Gently - Carmen
A Foggy Day - Julie
All This And Heaven Too - Chris
Misery - Carmen
Don't Worry About Me - Julie
Lush Life - Chris
If I'm Lucky - Carmen
Sometimes I Feel Like A Motherless Child - Julie
The Thrill Is Gone - Chris
Easy To Love - Carmen
You're Blase - Julie
---
More from this collection