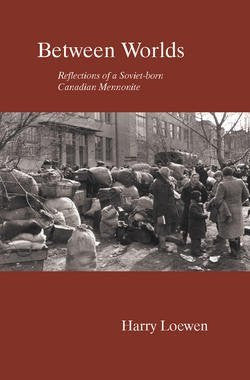 Harry Loewen
Between Worlds : Reflections of a Soviet-Born Canadian Mennonite
Between Worlds : Reflections of a Soviet-Born Canadian Mennonite Harry Loewen
Good Condition (Signed "H. Loewen" by the author Harry Loewen, along with an inscription to the former owner. Clean, bright, and unmarked text pages. Back cover has a small peeling of the plastic cover. Cover lays flat.)
 Harry Loewen: scholar, teacher and minister, was born 8 December 1930 in Friedensfeld, South Russia, the oldest of three children born to Nicolai J. Loewen (16 January 1910-1937) and Anna Wiebe Loewen (13 November 1910-4 March 1988). On 17 May 1953 he married Gertrude Penner in Coaldale, Alberta, Canada; they had three sons: Helmut-Harry, Charles, and Jeffrey. Harry Loewen died 16 September 2015 in Kelowna, British Columbia, Canada.
Harry was raised by his mother after his father and grandfather fell victim to Stalin's terror in the late 1930s. On the fateful night in September 1937 when his father was arrested by the NKVD, he said to Harry, "We might not see each other again. You are the oldest. Be good to your mother and help her as much as you can." His father's arrest was a defining moment that ended Harry's childhood innocence.
During World War II he experienced the Nazi invasion of Ukraine and the retreat into Poland and then Germany. In 1948 he came to Canada with his mother, grandmother, and siblings where, in spite of an interrupted education and little knowledge of English, he attended Coaldale Bible School and gained degrees from Mennonite Brethren Bible College (BRE, 1955), the University of Western Ontario (BA, 1959), the University of Manitoba (MA, 1961) and the University of Waterloo (PhD, 1970).
Loewen's MA on Luther and the radicals involved a study of early Anabaptism while his doctorate concerned Goethe's response to Protestantism, combining his love of German literature with an interest in theology. He thus established his credentials as a historian with expertise in literary studies and religion, skills he would continue to hone during his long career.
Loewen taught first at Mennonite Brethren Collegiate Institute and Mennonite Brethren Bible College in Winnipeg, Manitoba, and then in the Department of German at Wilfrid Laurier University (WLU) in Waterloo, Ontario from 1968 to 1978. At WLU he spent 10 happy years, becoming chair of the department.
Harry cultivated a deep spirituality, some of which was expressed in his poetry, a collection that was sadly lost in a devastating fire which engulfed their retirement home in 2003. More publically, Harry was a dedicated churchman. In 1955 Harry and Gertrude accepted a pastoral assignment in Winnipegosis that was both challenging and rewarding. In his own reflections, Harry notes how these two years remained highlights in his long life of public service. To the end of his life, Harry remained active in the congregation of which he and Gertrude were members.
In 1978 Loewen was invited to take up the newly created Chair of Mennonite Studies at the University of Winnipeg. Loewen quickly established himself as a leading scholar in Winnipeg, building an innovative teaching program in Mennonite studies and reaching out beyond the university to the diverse, and often divided, local Mennonite communities.
The success of Mennonite studies in Winnipeg owes a great deal to his energy and leadership. Annual symposia brought scholars together to discuss a wide range of topics from history to literature, greatly expanding Mennonite studies from a narrow focus on religious matters. The results were first published in volumes of collected essays and then annually in the Journal of Mennonite Studies, which he edited from 1983 to his retirement in 1995. Upon retirement he was made professor emeritus of history and Mennonite studies.
---
More from this collection