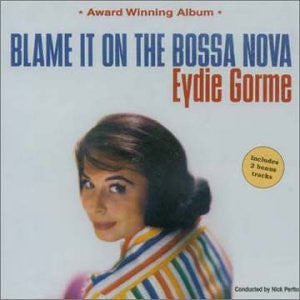 Eydie Gorme
Eydie Gorme - Blame It on the Bossa Nova
Blame It on the Bossa Nova  
By: Eydie Gorme
Very + Good Condition. (Includes, CD, Original artwork inserts and jewel case)
"Blame It on the Bossa Nova" is a song written by Cynthia Weil (lyrics) and Barry Mann which was a 1963 hit single for Eydie Gormé, reaching number 7 on the Hot 100 in Billboard in March 1963. The song also peaked at number 23 in the UK, whereas "Yes, My Darling Daughter" became the biggest hit for Eydie there, reaching number 10.
 Produced by Al Kasha who had been responsible for the No. 1 hit "Go Away Little Girl" by Gormé's husband Steve Lawrence, "Blame It on the Bossa Nova" featured backing vocals by The Cookies. "Blame It on the Bossa Nova" merges the sensibilities of the Brill Building Sound with the Latin music which Gormé had previously specialized in, as the song describes a romantic relationship inaugurated by a couple dancing to the bossa nova - "the dance of love." The bossa nova is a Brazilian music style in vogue in the United States from the late 1950s.
 "Blame It on the Bossa Nova" was an international hit for Gormé, reaching No. 1 in Australia, South Africa and Sweden and No. 2 in Norway. In the UK the single reached No. 32. Rendered in Spanish by Gormé as "Cúlpale a la bossa nova",[1] the track sold 250,000 units in Spain and Latin America and 100,000 units in Italy.[2]
 Gormé consequently recorded several Top 40-oriented releases but "Blame It on the Bossa Nova" would be her last solo Top 40 hit although partnered with Lawrence as Steve & Eydie she reached No. 28 and No. 35 with respectively "I Want To Stay Here" and "I Can't Stop Talking About You" in 1964. Gormé reached No. 43 with Mann-Weil's "I Want You to Meet My Baby" in September 1964; that track's B-side : "Can't Get Over (the Bossa Nova)", written by Gormé and Lawrence with Marilyn Gins, gained enough attention to chart at No. 87. Gormé subsequently shifted back to the easy listening musical style of the first phase of her career.
Track Listings
Disc: 1
One Note Samba
Melodie D'Amour
The Gift
The Sweetest Sounds
Dansero
Blame It on the Bossa Nova
Desafinado
The Message
Almost Like Being in Love
Moon River
The Coffee Song
I Remember You
Sweet Talk
Oba Oba
---
More from this collection