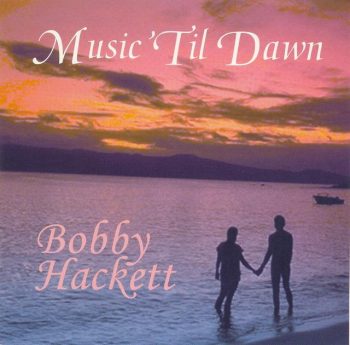 Bobby Hackett
Bobby Hackett - Music 'Til Dawn
Music 'Til Dawn
By Bobby Hackett
Very Good Condition
A Review:
The title says it all: romantic music for lovers. Bobby Hackett and his cornet, accompanied by the former New York Roxy and New York Paramount Wurlitzer theatre pipe organs (before the latter was moved to Wichita), gave us the same laid back, relaxing, late-night love making music that he made for Jackie Gleason in Gleason's "Music for Lovers Only" album. This CD album relives a time in music when the big band gave way to the lounge orchestra and conductors/composers/arrangers such as Percy Faith, Glenn Gould, Red Skelton, Mantovani and David Rose led these orchestras with their unique, romantic sounds.

"Music 'Til Dawn" is easily my most favorite theatre organ recording, and I have many in my collection. Why? Is it because this album doesn't try to be merely a recording of theatre pipe organs? Or is it because Bobby Hackett is the soloist? No. It is because this album showcases the theatre pipe organ in one of its originally-intended roles: to accompany soloists, and accompany them in style. Perhaps this is why Wurlitzer called its product a "unit orchestra," its ability to imitate the instruments of an orchestra.

In this recording are not one, but two theatre pipe organs, with consoles and organists side by side and joined by a piano, guitar and minimal drum kit, gracefully replicating every instrument of a dinner or lounge orchestra, and allowing the cornet of Bobby Hackett to soar high above the clouds, then coming back down and beckoning you to join him on a musically-romantic journey high above those same cloud tops in the evening twilight.

By accompanying the cornet and being joined by a subdued jazz quartet, this album really showcases the two Wurlitzers in a way that is rarely duplicated. In listening to the program, one can hear the lush tibias and soaring strings that bathe the listener totally immersed in the music. And perhaps this is what really makes the Wurlitzers, and Bobby's cornet, shine brilliantly and why this album is so perfect for a whole night of listening to this "Music 'Til Dawn."
Tracklist:
Stairway To The Stars (3:15)
Stardust (3:47)
Misty (3:00)
The Boy Next Door (2:32)
These Foolish Things (Remind Me Of You) (3:22)
Fools Rush In (Where Angels Fear To Tread) (3:45)
Sweet And Lovely (3:11)
I Couldn't Sleep A Wink Last Night (3:08)
Dream (3:39)
Love Letters (3:07)
That Old Feeling (3:41)
Lazy Afternoon (3:35)
Can't Get Out Of This Mood (3:16)
Moonlight In Vermont (3:36)
Like Someone In Love (3:15)
Polka Dots And Moonbeams (3:17)
Blue Is The Night (3:04)
It's Magic (3:06)
When I Fall In Love (3:03)
Indian Summer (2:30)
Product details
Audio CD
Label: Sony Special Products
Run Time: 62.23 minutes
ASIN: B000WLU5SY
---
More from this collection