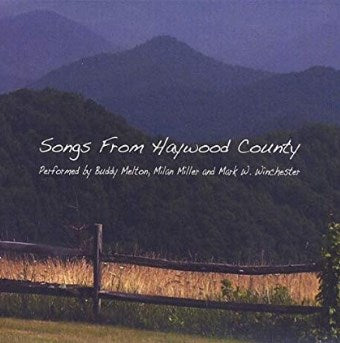 Buddy Melton, Molam Miller, Mark W. Winchester
Buddy Melton, Molam Miller, Mark W. Winchester - Songs From Haywood County
Songs From Haywood County
By  Buddy Melton, Molam Miller, Mark W. Winchester
Very Good Condition in Original Card Board Case
Tracklist
1. Papertown  3:35
2  Henry Grooms Was A Fiddler  3:40
3  Poor Child  3:35
4  Interstate  3:04
5  Lay Your Rifle Down  3:24
6 For the Pigeon River (The Creek Song) 3:27
7  The Government's Taking Our Homes 4:39
8 The First Man They Hanged in this County  3:57
9  Maggie of the Valley  3:42
10  Good Ole Letha Hicks  3:55
11  Sam Love Queen (The Square Dance King)  2:44
12  The Big Gun at the Center of Clyde  4:23
Product details
Original Release Date: June 24, 2009
Release Date: June 26, 2009
Label: Buddy Melton, Milan Miller and Mark W. Winchester
Copyright: ℗ 2008 Melton, Miller, Winchester © 2008 Buddy Melton, Milan Miller and Mark W. Winchester
Total Length: 44:00
Genres:
ASIN: B002FBBIY4
Providing a historic glimpse into triumph and tragedy of real life in Haywood County over the past 200 years, professional musicians Buddy Melton, Milan Miller and Mark W. Winchester have combined their talents to create the CD "Songs From Haywood County."
Released in November, all the songs are original country, bluegrass and folk tunes derived from real life characters, criminals and events from Haywood County while celebrating its bicentennial.
Melton and Miller were born and raised in Haywood County with connections that go back to childhood as Melton's mother was Miller's second-grade teacher. Winchester, a native of Monroe, has spent an abundant amount of time in the county and now resides in Nashville.
Melton who currently resides in the Crabtree area of Haywood County, is an accomplished fiddler and singer who performs regularly with the bluegrass band, Balsam Range, which has a new album "Last Train to Kitty Hawk" to be released in early February.
Miller grew up in Waynesville and has lived in Nashville since 1999, and is a multi-instrumentalist who has performed on television and national tours with Alan Jackson and the Grand Ole Opry.
Winchester is a songwriter and is well known for his abilities on the upright bass, which have landed him tenures with Emmylou Harris and the Brian Setzer Orchestra.
He has won a Grammy for his work with Setzer and written a top 40 country hit for Randy Travis.
The trio first worked together as part of the Nashville-based quintet Jubal Foster, which developed a following throughout the Southeast.
As the musicians have stayed friends through the years, creating songs about Haywood County has been a "satisfying experience."
Taking music and adding an educational element to it with a historical background has been new venture for Melton.
"This was a different thing than anything I've done musically," Melton said.
"It's like gospel music. Some people can't stand the pastor preaching, but they enjoy singing the Psalms. You can get some history of who you are from different formats."
Melton hopes listeners will take away more appreciation for the county's history and possibly learn some stories they might not have known.
"Did you know the last shots of the Civil War were shot on Sulphur Springs Road?" Melton asked.
The local historic intrigue was spurred on when Melton noticed two graves near his house on a hill.
After further investigation, he found out the graves belonged to Dave and Mary Mason, and the musicians felt compelled to write the CD's first song "The First Man They Hanged in This County," which is about the deadly relations between the Masons.
As the musicians compiled song ideas, they wanted to make sure the CD was well-rounded with a variety of elements involved.
Putting a positive twist on the paper mill in Canton, the song "Papertown," written by Miller, describes how the mill was a big part of the community as well as how the town was influenced by it.
"It's a really great song, and I enjoy singing it," Melton said.
The second song also written by Miller is "Henry Grooms was a Fiddler," which is about a fiddler, his brother and brother-in-law who was charged with desertion. As the folklore goes, the fiddler, Henry Miller, was instructed to play one final song, and he chose the "Bonparte's Retreat."
All three men were shot and buried in a single grave located in a private cemetery.
Melton made efforts to travel to each song's location and take photos, which are featured in the booklet that comes with the CD along with additional information and donated photos.
It took Melton three days to hike to the cave where Nance Dude was accused of leaving her granddaughter.
The song "Poor Child," written by Winchester, captures the core of the Nance Dude story.
"It's an intriguing story because people can't believe the nature of how it happened and when it happened," Melton said.
When discussing the song "Interstate," written by Winchester, Melton noted how the politics involved had an impact on Haywood County "changing the face of the county."
Melton shared that one of the great things about song writing is having the freedom to take any perspective desired.
When researching the history of Cataloochee, Miller wrote, "The Government is taking our homes," which describes how the development of the Great Smoky Mountains National Park forced people out of their homes.
Capturing the emotion of that time included involving characters of the county such as in the song, "Sam Love Queen (The Square Dance King)" whose heritage is still alive today as his grandson state Sen. Joe Sam Queen attends and calls local dances.
Joe Sam is featured on this song using calls that were handed down by his grandfather.
Reflecting on his own personal experiences in the song "Good Ole Letha Hicks," Melton describes the unique personality of a true mountain woman.
"She lived by herself, made moonshine, grew tobacco and had a funny accent," Melton said. "She was a good person."
When Melton was a young boy, he and his friends would take Letha firewood. He remembered a mountain hawk's head staring at him in her living room as well as her hospitality.
"She wanted us to taste the pulled pork and whiskey she had made as well as see her quilts. When you left there, you left with something like a tobacco twist and it's hard to get all that into a song," Melton said. "So we tried to capture some element of that."
Creating an "Allman Brothers feel," according to Melton, is the last song on the album, "The Big Gun at the Center of Clyde," which is a tribute to veterans and written from the gun's perspective by Winchester.
Used as a rendezvous spot and reference point, many Haywood County natives know the phrase "I'll meet you at the Big Gun."
"The gun came off a battleship, and a lot of people don't know why it's there," Melton said. "We wanted to explain its history and presence."
The group would work on the project whenever they could, emailing music files back and forth for about 10 months.
"Different folks can relate to different songs," Melton said.
With more CDs ordered and a Web site in the works, Melton is confident that "Songs From Haywood County" offers something for everyone.
Celebrating the bicentennial of Haywood County is the CD "Songs From Haywood County" performed by Buddy Melton, Milan Miller and Mark W. Winchester.
---
More from this collection