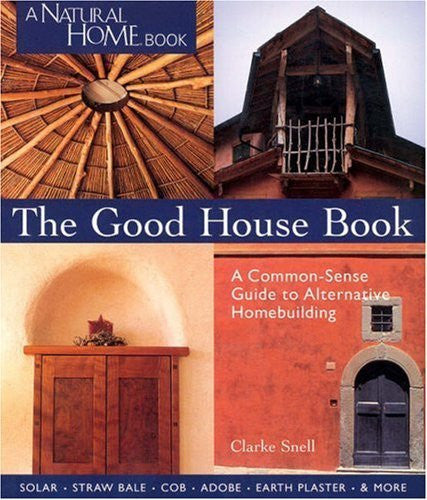 Clarke Snell
The Good House Book: A Common-Sense Guide to Alternative Homebuilding Solar * Straw Bale * Cob * Ado [Paperback]
By Clarke Snell The Good House Book: A Common-Sense Guide to Alternative Homebuilding Solar * Straw Bale * Cob * Ado [Paperback]  By Cl;arke Snell
Very Good Condition. (A slight crease to one cover corner. Clean, bright and unmarked. text. )
From Lark Books and Natural Home magazine—which has a circulation of 200,000—comes an illustrated, unique guide to building an earth-friendly home.

To create a dwelling that's both ecologically sustainable and attractive, Natural Home magazine is the place to go. With this exquisitely illustrated guide, packed with 400 photos and illustrations, anyone can put environmentally friendly ideas into beautiful practice. Here's an intelligent look at how a home is supposed to function and a variety of different building approaches. What's important is finding the right solution to fit your individual needs, local climate, and natural resources. The broad range of topics covered include choosing a site; selecting materials; building with straw bale, cob, adobe, or rammed earth; and plugging into alternative home power systems. Interviews with six homeowners, and photos of the dream homes they built, provide invaluable insight.
A Review:  
I've seen all of the other eco-house books (really!) after months of reading. This is the best I've seen. I could have missed the philosophy lesson in the first half easily, but the second half of the book more than made up for it. The author gives good detail on foundations, building types and solar gain, as well as other practical aspects to a green house. My favorite part of the book was the in-depth interviews and descriptions of alternative home builders and their houses. The answers to the question: "What was your greatest mistake?" was in every case eye-opening. This book goes far beyond the usual "naive couple building a straw-bale" kind of book. Every useful kind of alternative construction is discussed from a builder's point of view. The photos are wonderful and appropriate. You might not want to live in their houses, but it gives you an idea of what has been done and why it worked and ways it could be improved.
---
More from this collection