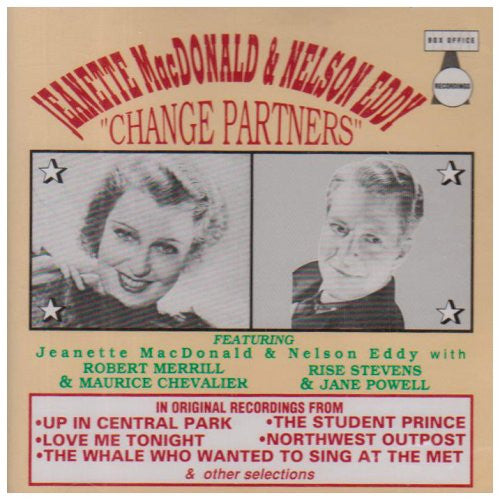 Jeanette MacDonald - Nelson Eddy
Jeanette MacDonald - Nelson Eddy - Change Partners
Renowned acting and singing duo Jeanette MacDonald & Nelson bring song favorites as The Student Prince and Up in Central Park.  
By:Jeanette MacDonald - Nelson Eddy
Very Good Condition. 
A Review
This is a great CD to have! Jeanette MacDonald and Nelson Eddy were incredibly talented singers that were very good singing together, with others, and by themselves. Jeanette MacDonald sings, "Carousel In The Park," "It Doesn't Cost You Anything To Dream," and "Close As Pages In A Book." The last song she sings with Robert Merrill. All of them are just beautiful! Nelson Eddy singing with Jane Powell, "Why Do I Love You?," and "Serenade" with Rise Stevens are exquisite! The company that put this CD out also has a Jeanette MacDonald CD "One Hour With You" which is first-rate. It has her singing several of her songs in the French language! Also, I highly recommend Nelson Eddy's "Out Of The Night." It has two CDs in it. His renditions of "Holy Thou Art" & "Somewhere In The Night" are just amazing! I can't say enough about these two singers. I wish I could have gone to their concerts. I would have been on my feet cheering at the end of their concerts. All I can say is "WOW"!
Track Listing
1. musical play: Carousel in the Park Up in Central Park
2. musical play: It Doesn't Cost You Anything to Dream Up in Central Park
3. musical play: Close as Pages in a Book Up in Central Park
4. musical play: Fireman's Bride Up in Central Park
5. musical play: The Big Back Yard Up in Central Park
6. musical play: When You Walk in the Room Up in Central Park
7. film score: Isn't It Romantic? Love Me Tonight
8. film score: Love Me Tonight Love Me Tonight
9. operetta: Golden Days, The Student Prince
10. operetta: Drinking Song, The Student Prince
11. operetta: Deep in My Heart, Dear, The Student Prince
12. operetta: Serenade, The Student Prince
13. operetta: Just We Two, The Student Prince
14. operetta: Come Boys, The Student Prince
15. film score: One More Mile to Go Northwest Outpost
16. film score: Raindrops on a Drum Northwest Outpost
17. film score: Love Is the Time Northwest Outpost
18. film score: Nearer and Dearer Northwest Outpost
19. film score: Tell Me With Your Eyes Northwest Outpost
20. film score: Russian Easter Hymn Northwest Outpost
21. an Opera in Minature, The (Willie the Operatic Whale) Whale Who Wanted to Sing at the Met
22. musical in 2 acts: Why do I Love You? Show Boat
23. song Beyond the Blue Horizon
---
More from this collection