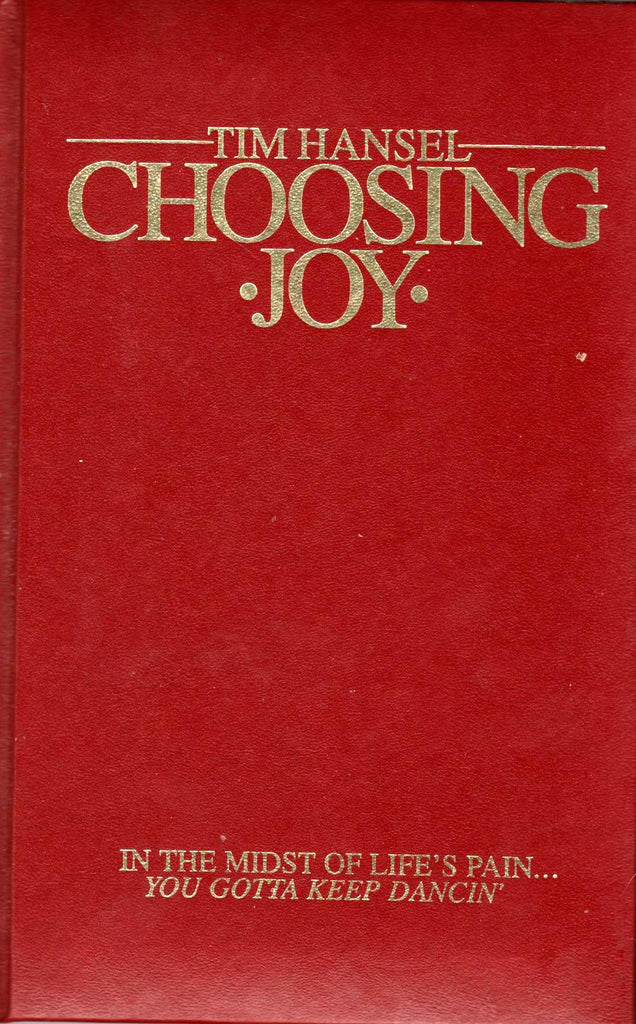 Tim Hansel
Choosing joy
Choosing Joy  By  Tim Hansel
Good Condition  (First Printing. Leather bound. Two pages have light highlighting Pages have turned to a creaminess. Outer page edges have light amount of foxing. A solid reading copy.  Beautiful little book)
Tim Hansel was a strong, risk-taking, all-out-effort kind of guy. He climbed mountains and led wilderness expeditions. One day, on the way back to camp after climbing on the Palisade Glacier with friends, his foot slipped and he fell a long distance down into a crevasse, landing directly on his back on the ice. Amazingly, not only did he survive, but he soon arose and climbed out with his buddy, who was sure he had just witnessed his friend's death. Together, they completed the hike back to camp.
Hansel reported that he became quite sore and that he had this funny sense of feeling shorter than before. With medication, he was able to sleep that night and, although he had a bad headache the next morning, he completed the eight-mile hike back to his car and drove home. He decided not to tell his wife about the fall. She soon found out anyway. The next night his body came out of shock and he awoke sweating profusely, delirious, in agonizing pain.
Doctors eventually told him that he would have to learn to live with that pain. The fractures and crushed discs in his back had caused traumatic, deteriorating arthritis. There was also massive soft tissue damage to the ligaments, tendons and muscles in his back were injured beyond possibility of repair.
Hansel chose to accept the pain as aggressively as possible. He kept working at his wilderness and mountaineering camp. He kept on jogging, climbing and playing tennis. But the intense pain also persisted, and he went through seasons where he became tentative, backing off from life, riding an emotional roller coaster and fighting the urge to give up.
Finally, Tim Hansel saw a doctor who put it all in perspective for him. "Son, listen to me carefully," he said. "The damage has been done. The worst is over. You will have to live with pain, but that's a small price to pay for life. My recommendation is that you live your life as fully and richly as possible. Bite the bullet and live to be a hundred. As far as I can tell, you can do whatever the pain will allow you to do."
One of the greatest lessons that this courageous man learned during this process was that he had the ability to choose joy, even in the midst of his unfortunate and painful circumstances.
This, says Tim Hansel, is in contrast to "happiness," which, you will note, comes from the same root as the word happening. Whether or not we feel happy depends on what happens to us. It is circumstantial. Of course there is nothing wrong with happiness! We all rightly enjoy when things are going well in our lives and circumstances.
But what about when they are not? People like Tim Hansel, who live in chronic pain, and others in a thousand different difficult life situations struggle with feeling happy.
Hansel encourages us, alternatively, to remember that we are privileged to be able to choose joy. We might say this about the difference between the two:
Whereas happiness may be a fleeting feeling, a mood that changes with the winds of circumstance, joy is an attitude, a posture, a position we take. Joy involves believing with a tenacious confidence that God is in control of life, though the immediate evidence might suggest otherwise.
Henri Nouwen offers this affirming, complementary opinion: a joyful heart is one in which something new is always being born, even when sadness and death are all around.
Choosing joy doesn't mean putting on an artificial smile or acting with superficial hilarity when we don't feel like it. Rather, we have to choose joy and keep choosing it every day. This means:
We determine to face life with optimism, courage and perseverance because we truly believe that God is here,
We are convinced that there are unseen benefits in every experience,
We believe that good will ultimately triumph,
And we cling tenaciously to the truth that nothing that happens, no matter how painful or mysterious, can ever separate us from God's love.
I love the title of the book Tim Hansel wrote about his experiences and what he learned. He called it, You Gotta Keep Dancin'.
Choose joy. Life may try to drown the music, but the heart that clings to joy will always find a way to hear it and dance.
---
More from this collection