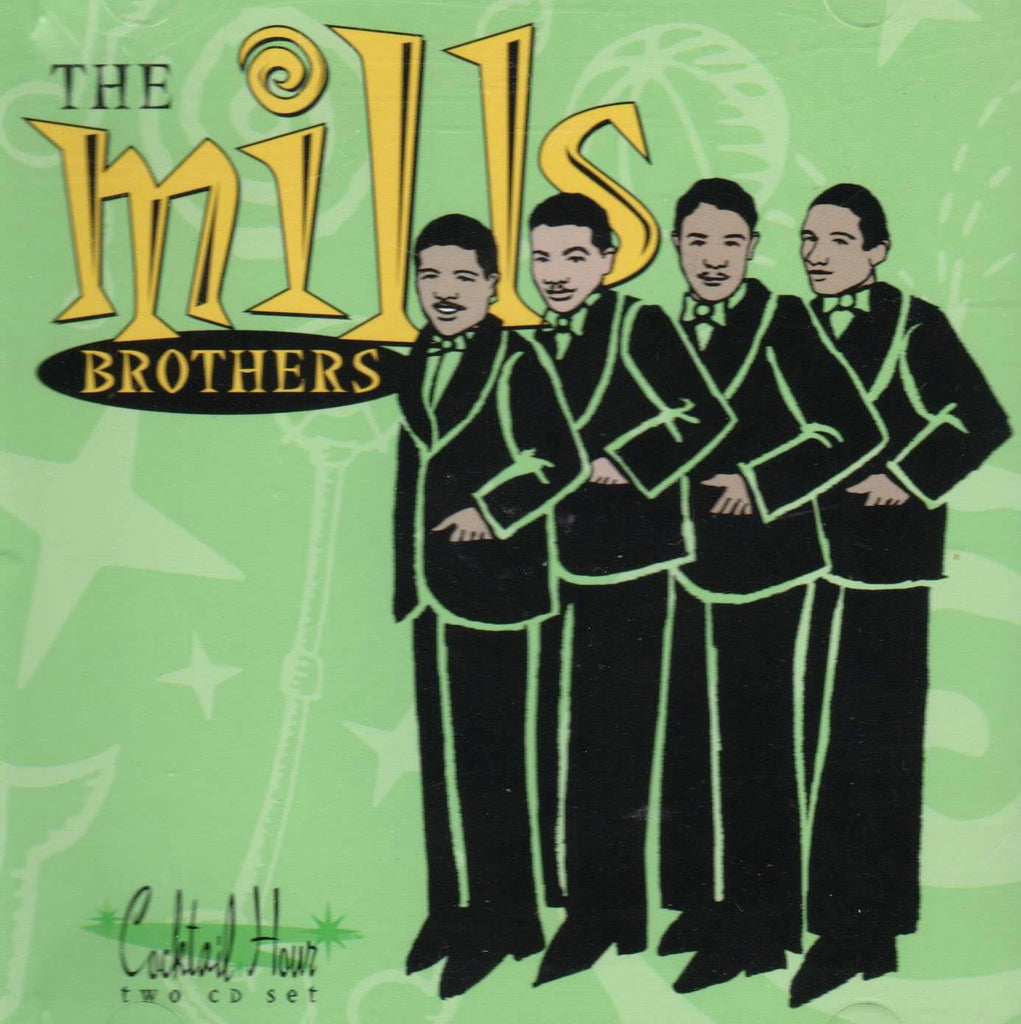 Mills Brothers
Mills Brothers - Cocktail Hour:
Cocktail Hour:  (2 CD Set)
 By The Mills Brothers
Very Good Condition.
This is a wonderful two-disc collection of Mills Brothers tracks from the 1930s and 1940s, including a classic version of "Lazy River," a beautifully laid-back take on Hoagy Carmichael's "Georgia on My Mind," and an impressive run at a pair of Duke Ellington classics, "It Don't Mean a Thing (If It Ain't Got That Swing)" and "Caravan" (the Mills Brothers' amazing ability to vocally mimic the instruments of a jazz orchestra allowed them to do fascinating "instrumental" covers of jazz standards). Some fairly essential tracks are missing here, though, like 1952's "The Glow Worm," for one, so this compilation isn't perfect, but it's a lot of fun and it does make a well-sequenced introduction to this amazing and innovative vocal group.
Track Listings
Disc: 1
Paper Doll
I'll Be Around
Jeepers Creepers
Lazybones
Organ Grinder's Swing
Nagasaki
Smoke Rings
Basin Street Blues
Funiculi Funicula
Asleep In The Deep
Ay Ay Ay Ay (Cielito Lindo)
Lazy River
Till Then
You Always Hurt The One You Love
Disc: 2
Shine
You Tell Me Your Dream, I'll Tell You Mine
Put On Your Old Grey Bonnet
Rockin' Chair
F.D.R. Jones
Stardust
Caravan
Georgia On My Mind
It Don't Mean A Thing
The Flat Foot Floogie
When You Were Sweet Sixteen
Someday (You'll Want Me To Want You)
Till We Meet Again
Manana
Product details
Audio CD
Label: Columbia River Ent.
ASIN: B01G650F0C
---
More from this collection