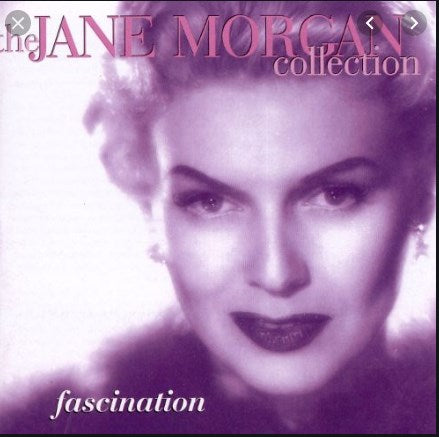 Jane Morgan
Jane Morgan - Fascination - The Jane Morgan Collection
Fascination - The Jane Morgan Collection
By Jane Morgan
Very ++ Good Condition. (Includes CD,original artwork inserts and jewel case, all in VERY good Condition)
A Review:
In some ways, Jane arrived on the music scene too late. Her music belonged in the pre-Elvis era but she had the talent, class and style to succeed in the rock'n'roll era despite that. Her only American top ten hit, Fascination, was a translation of the French song, Valse tzigane. Her only UK hit, The day the rains came, was a translation of another French song - it went all the way to number one in the UK but stalled just outside the top twenty in America. La jour ou la pluie viendra (to give it its original French title) was written by Gilbert Becaud, an excellent songwriter who also wrote songs that were translated into English as It must be him, Let it be me and What now my love.

This compilations includes both of those fine songs plus fourteen others and extensive liner notes. Jane had three other American hits. Chart students may be disappointed to note that Happy anniversary is the only one included here. The others, together with the three already mentioned, can be found on Greatest hits.

The rest of the album is filled with Jane's majestic performances of classic songs including Love makes the world go round, Wrap your troubles in dreams, Hello young lovers, It's easy to remember and Baubles bangles and beads. The most famous song here may be My favorite things, a song that originally appeared in The sound of music - it has now been adopted as a Christmas song and is sometimes included on Christmas albums.

Despite the omission of two minor hits, this is the best collection of Jane's music so far released.

If you enjoy the music of Margaret Whiting or Jo Stafford, you'll love Jane's music too.
 Track Listing 
  2. Love Makes The World Go 'Round

  3. Wrap Your Troubles In Dreams

  4. When The World Was Young (Ah! The Apple Trees)

  6. I Get Ideas (When I Dance With You)

  7. The Day The Rains Came

  9. Love Is A Simple Thing

  10. It's Easy To Remember

  11. Baubles, Bangles and Beads

  16. Beyond The Blue Horizon

---
Product details
Audio CD (February 10, 1998)
Number of Discs: 1
Label: Varese Sarabande
ASIN: B00000151D
---
More from this collection