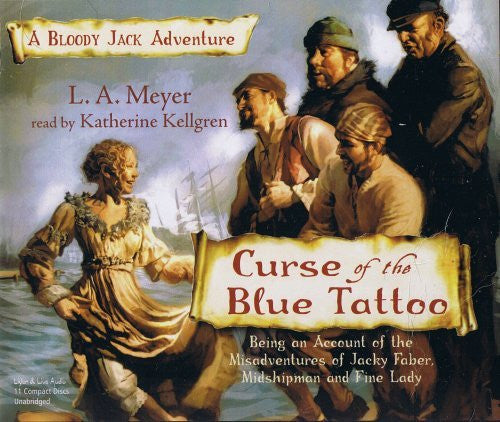 L.A. Meyer and Katherine Kellgren (narrator)
Curse of the Blue Tattoo (Bloody Jack Adventures (Audio))
Curse of the Blue Tattoo (Bloody Jack Adventures (Audio)).
All 11 Cd's are included. No accompanying reading material, if issued with it. Pictorial Case and CDs are in very good condition.  By: L.A. Meyer and Katherine Kellgren (narrator)
Shiver me timbers! Bloody Jack is back and this time, she's facing a situation far worse than a ship full of murderous pirates. Curse of the Blue Tattoo, L.A. Meyer's sequel to the enormously popular Bloody Jack: Being an Account of the Curious Adventures of Mary "Jacky" Faber, Ship's Boy is just as bawdy and entertaining as the original. Left in Boston by the H.M.S. Dolphin crew when they discover her true sex, Jacky Faber finds herself navigating entirely new waters. It turns out that bloodthirsty buccaneers have nothing on the young ladies at the Lawson Peabody School! As Jacky observes, "…they're like any bunch of thirty or so cats thrown in a sack and shaken up good. They're mean in ways that boys never even thought of being." It isn't long before Jacky shows her true colors by being arrested for "exposing a Female Part" (her knee) while jigging in the streets and is "busted down" to serving girl instead of student. Jacky soldiers on, getting herself into scrapes that her darling beau midshipman Jaimy Fletcher couldn't even begin to imagine, including uncovering a shady minister's evil secret and fixing a horse race with voodoo. And where in the world is seafaring Jaimy? As her letters to him continue to go unanswered, Jacky grows more and more worried. Still, at book's end she takes an assignment as "lady's companion" to the captain's wife aboard a whaler headed for London. Astute readers will notice that the whaler's crabby captain has a peg leg and won't be surprised if in the next Bloody Jack Adventure, Jacky ends up hunting the great white whale!
 Utterly engaging and incredibly well-paced,Curse of the Blue Tattoo is the very best kind of historical fiction: the kind that won't leave teens snoring. Meyer effortlessly maintains Jacky's sassy voice and conflicted conscience in what is shaping up to be a great series. While many readers will groan with despair as Jacky sets off yet again at the end of the book, they will also sigh with relief that they will most likely be meeting her again! --Jennifer Hubert
---
More from this collection