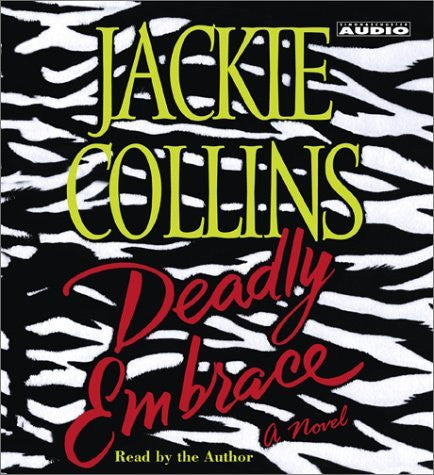 Jackie Collins
Deadly Embrace
Deadly Embrace   By:  Jackie Collins     Audio CD


Like New Condition: (Factory Sealed. Audio CD book has never been played. A black Mark through bar code.)
At the center of this thrilling and powerfully erotic story is Madison Castelli, the beautiful, talented and street-smart journalist first introduced in the L.A. Connections series and Lethal Seduction. Distraught after finding out her father has been keeping secrets from her (and is possibly involved with the mob), Madison flies from New York to LA She visits her best friend, Nasally De Barge, a gorgeous black radio personality, but within hours they find themselves caught in a restaurant hold-up, where they are trapped in a life-or-death situation.
Meanwhile, Michael Castelli, Madison's outrageously handsome father, has been accused of two murders and flees to Las Vegas to be with Dani, the ex-showgirl mother of his other two children: Vincent, a Las Vegas hotel and casino owner, whose pretty wife is busy chasing hot young movie star Andy Dale, and Sofia, a wild eighteen-year-old currently running around Europe getting into dangerous situations with older men.
Michael is determined to find the people who set him up and exact his revenge.
And, as Madison knows, what Michael Castelli wants, Michael gets.
Deadly Embrace is full of surprises, excitement, passion and intrigue, a wickedly entertaining read, brimming with the memorably raunchy characters and glamorous settings that readers have come to expect from Jackie Collins.
---
More from this collection