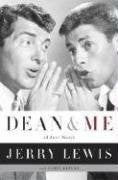 Jerry Lewis and James Kaplan
Dean & Me
Dean & Me  By:  Jerry Lewis and James Kaplan
Very ++ Good Condition.(Dust Jacket, is in very good Condition. Clean, bright and unmarked text.)
They were the unlikeliest of pairs—a handsome crooner and a skinny monkey, an Italian from Steubenville, Ohio, and a Jew from Newark, N.J.. Before they teamed up, Dean Martin seemed destined for a mediocre career as a nightclub singer, and Jerry Lewis was dressing up as Carmen Miranda and miming records on stage. But the moment they got together, something clicked—something miraculous—and audiences saw it at once. 

Before long, they were as big as Elvis or the Beatles would be after them, creating hysteria wherever they went and grabbing an unprecedented hold over every entertainment outlet of the era: radio, television, movies, stage shows, and nightclubs. Martin and Lewis were a national craze, an American institution. The millions (and the women) flowed in, seemingly without end—and then, on July 24, 1956, ten years from the day when the two men joined forces, it all ended.

After that traumatic day, the two wouldn't speak again for twenty years. And while both went on to forge triumphant individual careers—Martin as a movie and television star, recording artist, and nightclub luminary (and charter member of the Rat Pack); Lewis as the groundbreaking writer, producer, director, and star of a series of hugely successful movie comedies—their parting left a hole in the national psyche, as well as in each man's heart.

In a memoir by turns moving, tragic, and hilarious, Jerry Lewis recounts with crystal clarity every step of a fifty-year friendship, from the springtime, 1945 afternoon when the two vibrant young performers destined to conquer the world together met on Broadway and Fifty-fourth Street, to their tragic final encounter in the 1990s, when Lewis and his wife ran into Dean Martin, a broken and haunted old man.

In Dean & Me, Jerry Lewis makes a convincing case for Dean Martin as one of the great—and most underrated—comic talents of our era. But what comes across most powerfully in this definitive memoir is the depth of love Lewis felt, and still feels, for his partner, and which his partner felt for him: truly a love to last for all time.
Reviews 
From Publishers Weekly
Over the course of their 10-year partnership, Lewis and Dean Martin made 16 wildly popular movies (they were the world's number one box office earners from 1950 to 1956), but their real strength was their performances in nightclubs, theaters and on television. Audiences found their mixture of music and ad-libbed, irreverent comedic pandemonium intoxicating. The duo's fascinating kinship—Lewis idolized his partner, while Martin was aloof—has been chronicled in Shawn Levy's King of Comedy and Nick Tosches's Dino, but Lewis wants to give his late partner the credit he feels critics missed by always praising the "the monkey" rather than the straight man. Untangling the complicated union, Lewis doesn't spare himself, admitting that when the team's relationship unraveled (they weren't speaking between scenes on their last film), he became a bully on set and made others the brunt of the anger he couldn't vent at Martin. Lewis is a wonderful raconteur, and his tales capture the excitement of their budding career and the slow, sad erosion of the fun. Whether it's his age (Lewis is 79) or his coauthor (Kaplan co-wrote John McEnroe's You Cannot Be Serious), fans will be surprised and entertained by Lewis's honesty and diminished ego and bitterness.


From
 Booklist
Dean Martin and Jerry Lewis soared to popularity in post-World War II America, as their unlikely chemistry proved successful. The two met in New York City in 1945, where Lewis, a struggling comedian, and Martin, a handsome crooner, were looking to hit the big time. This candid memoir examines the tumultuous yet productive relationship that developed between the two as they spent 10 years performing live shows and making movies. As Lewis tells it, in the early years of the duo's success, they began hanging out with movie stars and other celebrities, and life was one continuous party, with loads of money and all the booze, babes, and good times that either could ask for. But despite attempts to manage their egos and to handle the other pressures that come from living a fast life, eventually the magic began to fade and the two finally called it quits in 1956. After parting ways, both achieved great solo success: Martin becoming a member of the famous Rat Pack and Lewis a successful writer, producer, and director. Although they never really worked together again, Lewis maintains that he never stopped loving Dean Martin, and indeed this book is an adoring tribute to the man. (It may leave some readers wondering what Dean's side of the story would be.) Kathleen Hughes
---
More from this collection