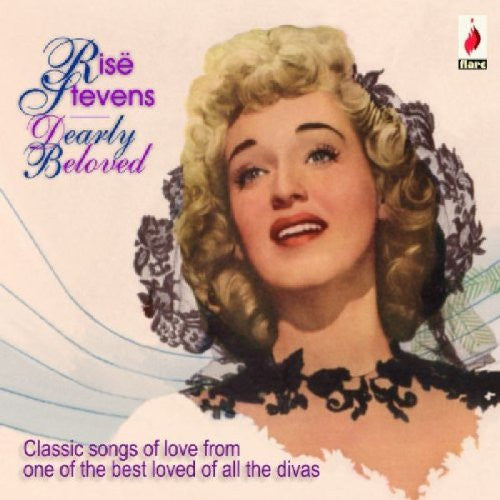 Rise Stevens
Rise Stevens - Dearly Beloved (Classic Songs Of Love)
Dearly Beloved - Classic Songs Of Love From One Of The Best Loved Of All The Divas.  
By: Rise Stevens
Good Condition (Front insert has slight tab marks. CD and jewel case are in VERY good condition.)
Editorial Reviews
Mezzo-soprano Rise Stevens was one of the most popular stars of New York's Metropolitan Opera and also starred in a number of Hollywood films. Here she is heard in a programme of popular ballads and old songs, many of them traditional, and songs from some of the great operettas. In them she demonstrates her versatility and talent in such evergreens as the beautiful "Danny Boy", the irresistible "Come, Boys" and the witty "I Can't Do The Sum". These recordings are new to CD.
Track Listings
  1. Look For The Silver Lining
  3. All The Things You Are
  7. In The Still Of The Night
  9. Songs My Mother Taught Me
  11. Flow Gently, Sweet Afton
  20. 'Neath The Southern Moon
  21. I'm Falling In Love With Someone
  22. I'm In The Mood For Love (w. Robert Merrill)
  23. You And The Night And The Music (w. Robert Merrill)
---
More from this collection