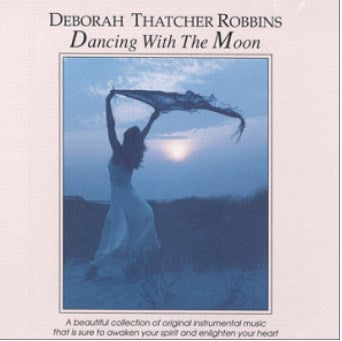 Deborah Thatcher Robbins
Deborah Thatcher Robbins - Dancing With The Moon
Dancing With The Moon
By  Deborah Thatcher Robbins
Very Good Condition  (New - Still in factory wrap)
Pianist Deborah Thatcher Robbins has created a gallery of emotions and textures on Dancing With the Moon. Most of these soft, flowing piano selections are accompanied by the sounds of flute, flugelhorn, trumpet, sax, violin and cello. The musical vision encompasses, lifts and transforms the listener with its energy, speaking directly to the soul. Deborah's exciting release offers both tenderness and power.
About the Artist
Three releases, "Silhouettes", "Dancing With The Moon", and "Visions Of Nature". "Visions Of Nature" was on the nomination entry list for the 40th Annual Grammy Awards in the New Age Field for Best New Age Album, and in the Composing/Arranging Field for Best Instrumental Composition. Deborah is a voting member of NARAS, a member of BMI.Owner of Dact Publishing Co., Co-owner Nightstar Records. Inclusion in the 24th edition of Who's Who in the East and the 13th edition of The World Who's Who of Women.
Music from Deborah's CD's has aired on over 350 radio stations in the United States and Canada. Her music has been used for several feature programs of the Boston based national TV program "Chronicle". Selections from her three CD's are programmed with AEI the world's largest foreground music programmer and supplier, and syndicated with Broadcast Programming and Bonneville Broadcasting. Several cuts from "Silhouettes" and "Dancing With The Moon" where used in a video series "World Of Remembered Dreams" by Marilyn Wright. Deborah's music has been used as background music for several programs on the public broadcasting system C3TV. In addition, one cut from "Dancing With The Moon" was used as the theme music for a program on radio station WGNU in St. Louis, Missouri. Performances have included the United Way of greater New Bedford (4) years, private concerts throughout Cape Cod and on going fund raisers for many different causes.
Track Listings
  8. ) Dancing With The Moon

---
Product details
Audio CD (May 4, 1992)
Original Release Date: May 4, 1992
Number of Discs: 1
ASIN: B00001OPHW
---
More from this collection