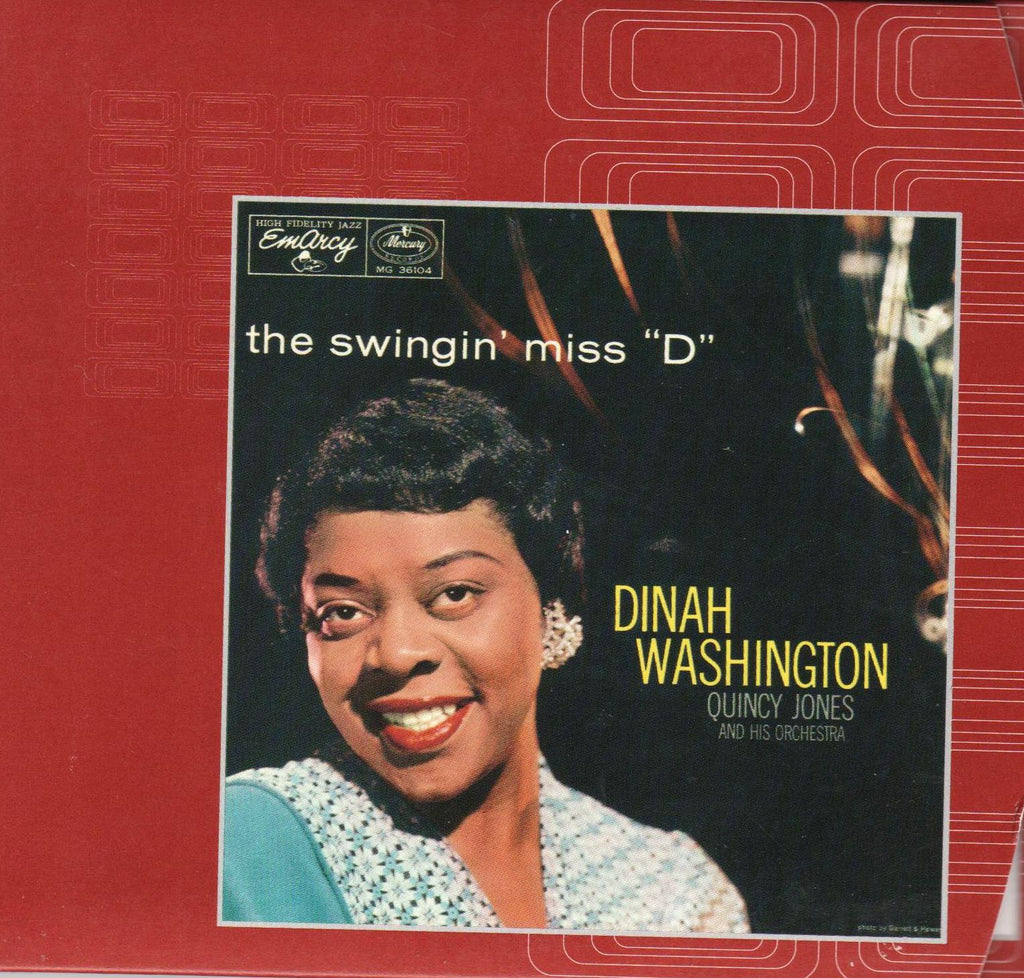 Dinah Washington
Dinah Washington - The Swimgin' Miss "D"
The Swimgin' Miss "D"
By Dinah Washington
Good Condition  In Original Cardboard Case
Dinah Washington was accompanied by an orchestra organized and conducted by Quincy Jones on this 1957 album, and she was singing to arrangements mostly written by the young bandleader, swing charts of pop standards by the likes of Cole Porter, George Gershwin, and Duke Ellington. The result had much in common with the swing albums of Frank Sinatra in the same period, especially because Jones' arrangements were heavily influenced by Billy May and Nelson Riddle. Sinatra's records were regarded as "pop, " of course, and Washington's, at least when released on the EmArcy subsidiary of Mercury Records, as "jazz, " but her precise articulation and attention to lyrical meaning left little room for improvisation, and while Jones allowed for brief solos from a band that included Charlie Shavers, Clark Terry, Urbie Green, and Milt Hinton, the jazz categorization was actually arbitrary. Whatever musical genre you assign it to, however, this is an excellent Washington album. [For the 1998 reissue, Verve added seven bonus tracks recorded around the same time and with much the same personnel, though they were intended as singles and thus are inferior contemporary tunes. Often, however, Washington sounds more comfortable and enthusiastic on these pop and R&B songs than she does on the standards.]
A Review:
I am listening as I write, will try to get through the whole album before I finish this review. The sound on this album is very rich for an old, restored album...amazing, really; the sound is as good as a newly produced album. It has 18 songs on it; the original only had 12. Has anyone seen the Doubletree ad with the wonderful graphics...and Dinah singing "Relax Max". Well, that's what got me onto this album, and it was not a mistake...this album is truly a winner. Lots of foot-tapping joy, with some nice ballads to calm you along the way. I'm so glad my mother wasn't a fan of Quincy and Dinah, so I can enjoy this as new, with no offending memories attached. I will not name a song that is better than any other...they are ALL good. Well, on second thought, "i'll drown in my tears" is a very old fashioned bluesy song, so great! "you let my love grow cold" is very swingy, irresistable. I must stop my review at this point, but this album is a winner. The songs on it are ALL winners. The best of the best of this genre.
 Tracklist
 1   "They Didn't Believe Me"      (Jerome Kern, Herbert Reynolds) – 2:44
 "You're Crying" (Leonard Feather, Quincy Jones) – 3:29
"Makin' Whoopee" (Walter Donaldson, Gus Kahn) – 2:26
"Ev'ry Time We Say Goodbye" (Cole Porter) – 2:27
"But Not for Me"  (George Gershwin, Ira Gershwin) – 2:25
"Caravan" (Duke Ellington, Irving Mills, Juan Tizol) – 2:37
"Perdido" (Ervin Drake, H. J. Lengsfelder, Tizol) – 3:23
"Never Let Me Go" (Ray Evans, Jay Livingston) – 2:42
"Is You Is or Is You Ain't My Baby?" (Billy Austin, Louis Jordan) – 2:56
"I'll Close My Eyes" (Buddy Kaye, Billy Reid) – 3:57
"Somebody Loves Me" (Buddy DeSylva, George Gershwin, Ballard MacDonald) – 2:32
"I'll Drown in My Tears" (Henry Glover) – 3:09
"You Let My Love Grow Cold" (Jessie Mae Robinson) – 2:26
"Bargain Day" (William Roy) – 2:50
"Relax Max" (Al Frisch, Sid Wayne) – 2:42
"Tears to Burn" (Alberts, Bruce) – 2:44
"The Kissing Way Home" (Harold Solomon, Manny Kurtz) – 2:23
18 "I Know"      (Dick Felt, Russell Hallowell, Teddy Powell) – 3:07
  Product details
Audio CD (January 2, 2009)
Number of Discs: 1
Format

:

 Import
Label: Essential Jazz Album
ASIN: B001PU8O0W
---
More from this collection