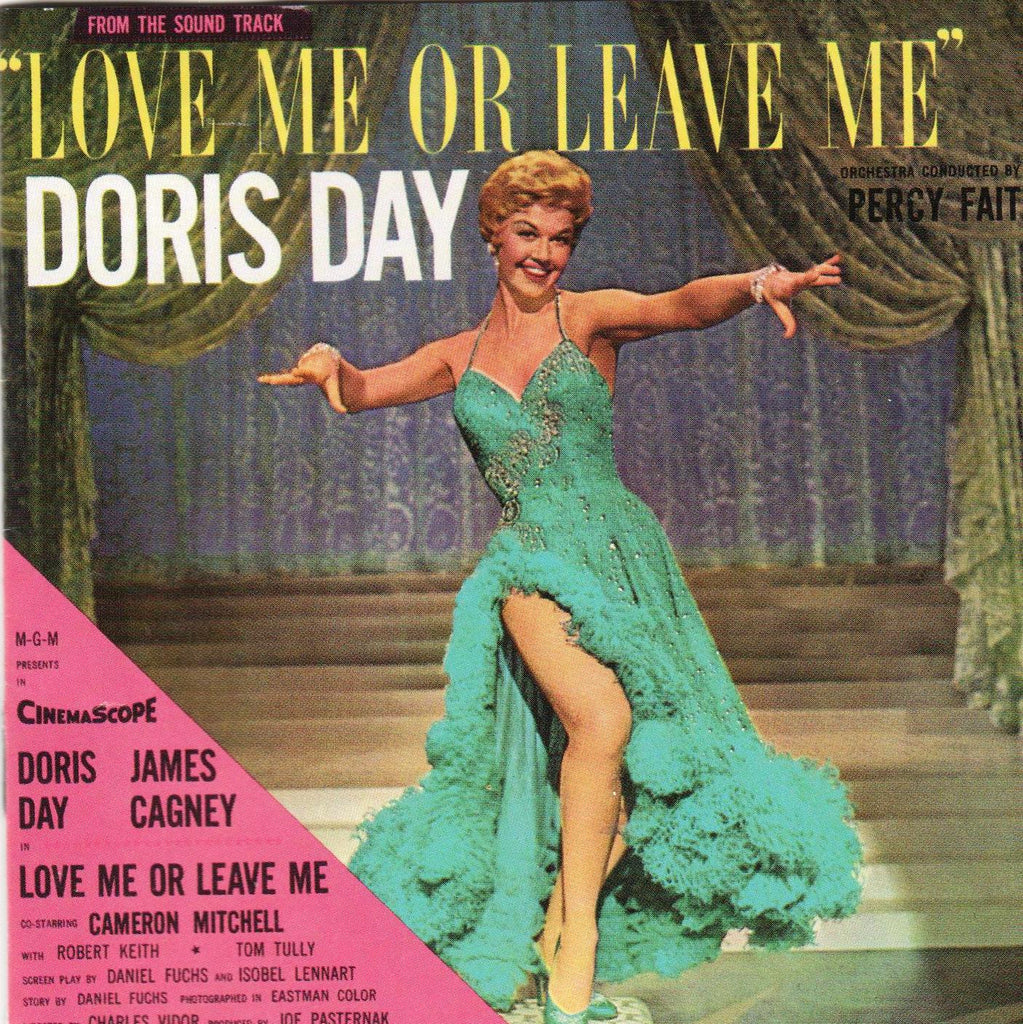 Doris Day
Doris Day - Love Me Or Leave me
Love me Or Leave Me
By  Doris Day
Very Good Condition
"Love Me or Leave Me" was Doris Day's biggest album ever. It was released in May, 1955, made #1 on August 6, 1955 and remained #1 for the rest of the year (Billboard). It continued to sell well the following year and was a real sensation in its day. By April, 1956 Elvis would have both the #1 album and single and a new era was beginning.

This was the soundtrack to the movie, which itself did well (#16 for the year) but not nearly as well as the album, which everyone seemed to own. Soundtrack is a loose term here, as all these recordings were made in New York after the actual film soundtrack was recorded in Hollywood. This was the standard practice for all soundtrack recordings, vocal and instrumental, for reasons, some technical and some artistic, which would require too much space to go into here. The arrangements here were the same as used in the film (which was not always the case) so it's truly the songs as they appeared in the film. Percy Faith conducts the orchestra.

There is one exception and that is "Ten Cents a Dance". The film made little attempt to historically reproduce the 1920's and 30's beyond cars and a few costumes, which was totally the way movies were done in the fifties. The musical arrangements also did this with big band and orchestral arrangements unlike Etting's. Doris Day also made no effort to imitate Etting, which would have been a big mistake. But with this song, in the film, she sings in a higher pitch with a bit of a quaver and with shorter phrasing as a tribute to Etting. It's not an imitation but it's not Day's usual style. Here it's done in Day's own style, with a more emotional feeling The album also successfully recreates the song montage that preceded "Ten Cents a Dance".

The songs are all but one from Etting's repertoire, mostly showtunes by big composers of her era like Walter Donaldson, Rodgers & Hart and Irving Berlin. The cover with the blue dress is from one of the biggest numbers, Berlin's "Shaking the Blues Away". Again there's one outlier and that's "I'll Never Stop Loving You", written for the film by Nick Brodskt and Sammy Cahn. This may have been included to get an Oscar nomination, which it did (though losing to "Love Is a Many Splendored Thing"); surprisingly, Day was not nominated for Best Actress, a nomination many felt she deserved at the time.

The album was originally a ten inch record with additional songs added in 1958 for the twelve inch record. Both were Long Play, but at first it was the standard to make pop albums of only ten songs. Originally there was even a multi-record 45RPM set as well. When the album was reissued in stereo in 1963 it was not true stereo, but rather that "rechanneled" variety synthesized in a studio. For this CD Sony/Columbia went back to the original masters to create true stereo.

Overall, this was Day's best album since "Young Man With a Horn" largely because of the quality of the material. That's probably why it was such a big hit. It's also probably why this is the only Doris Day album that has been continually in print in one form or another on it's original label.
Track Listings
  3. You Made Me Love You (I Didn't Want To Do It)

  4. Stay On the Right Side, Sister

  5. Everybody Loves My Baby (But My Baby Don't Love Nobody But Me)

  7. Sam, The Old Accordian Man

  8. Shaking the Blues Away - Doris Day with Percy Faith & His Orchestra

  9. WHAT CAN I SAY AFTER I SAY I'M SORRY

  10. I'll Never Stop Loving You

  15. I'll Never Stop Loving You - Doris Day with Percy Faith & His Orchestra

  17. Love Me Or Leave Me
Product details
Audio CD (December 16, 2009)
Original Release Date: May 18, 1993
Number of Discs: 1
Format: Soundtrack
Label: Columbia
Run Time: 36 minutes
ASIN: B0000027LK
---
More from this collection