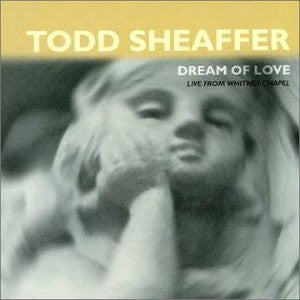 Todd Sheaffer
Todd Schaeffer - Dream of Love
Dream of Love
By Todd Schaeffer
Very Good Condition. Comes in the original pictorial cardboard case
Todd Sheaffer, former frontman for New Jersey roots rockers From Good Homes, proved himself a full-throated tenor fit for an interesting acoustic folk solo career beginning in 2000. After From Good Homes played its farewell concert at Waterloo Village in Stanhope, NJ, in August 1999, Sheaffer embarked on a solo career. First he performed locally in New Jersey at small venues to test the waters. By November of 1999, he felt confident enough about his abilities as a performer and songwriter to perform with keyboardist John Ginty (Jewel, Lou Reed) and percussionist Ed Nowicky (From Good Homes) at Centenary College in Hackettstown. The performance, broadcast and recorded at the Whitney Chapel on November 20, 1999 as part of WNTI's concert series, featured Sheaffer's versions of From Good Homes favorites such as "Scudders Lane," "Radio On," and "Black Elk Speaks," as well as Sheaffer's own new songs such as "Where the Song Begins" and "Dream of Love." Dream of Love: Live from Whitney Chapel, Sheaffer's solo debut CD, was released on Bag O' Seed Music on May 20, 2000. MTV licensed the music for use on its show Real World. During his days with From Good Homes, Sheaffer also played solo and found it was a good way to keep in touch with the heart of his songwriting. Solo performance also afforded him the opportunity to expand his technical skills on guitar. In From Good Homes, Sheaffer sang lead vocals, wrote songs, and accompanied instrumentally in a flat-picking, rhythmic style on rhythm guitar. Solo work created another lead voice for him on guitar. Songwriting became a matter of personal growth and expression of human emotions for Sheaffer, who first started playing guitar during high school in 1977.
After receiving a B.A. in English literature from Columbia University in New York City in 1986, Sheaffer began performing with the Jack Hardy Band in the U.S. and in Europe from 1986-1989. Hardy was a folksinger and founder of Fast Folk magazine. Sheaffer recorded with the Jack Hardy Band on The Hunter (Entente) and Through (Great Divide). Tom Duval and Brady Rhymer were the trio's bassists. Sheaffer joined From Good Homes in 1989 and spent a decade with the group, which was originally formed from members of Sheaffer's high school band called Old Crow Band. From Good Homes disbanded in August, 1999.
Sheaffer joined the bluegrass-rock group Railroad Earth, which started informally in the fall of 2000 during bluegrass jam sessions at the Long Valley, NJ, home of multi-instrumentalist Andy Goessling. The group featured former members of From Good Homes and of the New Jersey swing band Blue Sparks from Hell, including Sheaffer (vocals, acoustic guitar), Goessling (acoustic guitar, mandolin, banjo, pennywhistle, saxophone), Tim Carbone (violin, acoustic guitar), and session player John Skehan (mandolin, guitar, piano), as well as drummer/percussionist Carey Harmon and upright and electric bassist Dave Von Dollen. Railroad Earth recorded its debut CD, The Black Bear Sessions, in 2001.
 Tracklist
1     Dream Of Love
2     Radio On
3     When Songs Begin
4     Scudder lane
5     Came up Smilin'
6     When The World Was Young
7     The Old Man And The Land
8     Black Elk Speaks
9     Spacey Johnny
10   Head
12   The Giving Tree
12   Raindance
---
More from this collection