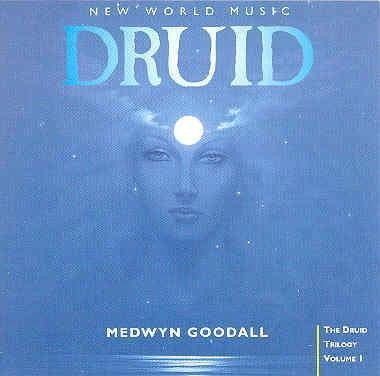 Medwyn Goodall
Medwyn Goodall - Druid: The Druid Trilogy, Vol. 1
Druid: The Druid Trilogy, Vol. 1  
By Medwyn Goodall
Very Good Condition. 
About The Artist:
Medwyn Goodall (born in 1961) is a composer and musician mostly associated with the New Age genre. He was born in Yorkshire, England. He lives with his wife Wendy in Cornwall, England. According to AllMusic, "Goodall began composing original songs as a teen, earning local notoriety with his band Trax; in the years to follow, he learned to play a vast range of instruments, including mandolin, piano, drums, harp, flute, glockenspiel, panpipes, vibraphone and synthesizer, and cut his first album at age 26".  He is a prolific recorder, having recorded over 75 albums. He also topped the UK music charts twice and sold over three million albums.  His first album was Emergence (1987), published by New World Music.  His early albums were published also by Oreade Music. Medwyn Goodall recently started MG Music,  a record label which specializes in New Age music.
He produced albums on which he arranged, performed, mixed and mastered every song, although his album, OM (2007), was produced together with Terry Oldfield and OM 2 (2009), was produced together with Aroshanti. There is an updated list of his albums at MG Music and at AllMusic web sites.
Many of Goodall's recent releases have been under the alias Midori. He explains that he chose this alias so he "could record projects that were more ethnic, eastern, or produced for the healing arts" without confusing fans of his other music.[5] However, there are also other musical artists using or known by the name Midori (such as the jazz-punk combo Midori and the Japanese violinist Midori Goto).
 Tracklist
1          Nine Maidens  5:58
2          Mermaids Rock           7:40
3          Nine Maidens (Reprise)          6:45
4          Celtic Dawn    1:40
5          Trewa - Home Of The Druids 10:14
---
More from this collection