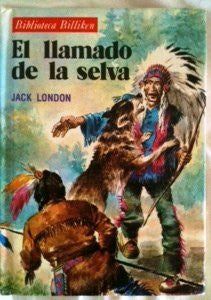 Jack London
El Llamado De La Selva
El Llamado De La Selva  By Jack London
  Very Good Condition. Gently read book
Publicada en 1903, y traducida unas veces como La llamada de la selva y otras como La llamada de lo salvaje (The Call of the Wild es el título original), esta novela del narrador norteamericano Jack London tiene como protagonista a ninguno de los seres humanos representados en la historia, sino a un perro llamado Buck. Nacido del cruce de un San Bernardo con una perra escocesa de pastor, Buck vive en las tibias tierras del Sur como dueño indiscutible de la casa y la granja del juez Miller.
Pero en el otoño de 1894, cuando el descubrimiento de los yacimientos auríferos de Klondike arrastra hacia los hielos de Alaska a hombres de todas partes del globo, Buck es productivamente vendido y enviado al Norte. Sin ser ya acariciado ni respetado, en un país salvaje y hostil, se ve obligado a doblegarse a la ley primitiva del bastón y el látigo, a soportar los arreos y a tirar del trineo del correo del gobierno canadiense. Sus músculos se hacen duros como el hierro, se despierta en él el instinto primordial de las antiguas generaciones, y su grito se convierte en "la inarticulada voz de la lucha por la existencia".
Su vida se hace aún más triste cuando pasa, con su jauría, al servicio de tres buscadores de oro pendencieros e incapaces que, movidos novelescamente a la aventura, topan con la dura realidad de la pista ártica. Buck los sigue de mala gana, lleno de tristes presentimientos: los tres acaban pereciendo, con los demás perros, en una hendidura; Buck, por casualidad, es salvado por Thornton, que se convierte desde aquel momento, por una especie de misteriosa e íntima comprensión, en su amigo, su amor, su dios.
El sentimiento de Buck por su amo es pura adoración: dos veces le salva la vida, y le hace ganar 1.600 dólares de recompensa arrastrando durante cien metros un trineo cargado con mil libras de peso. Pero durante las largas peregrinaciones en las que acompaña a Thornton en busca de una mina abandonada, Buck siente renacer en sí, cada vez más fuerte, el instinto atávico que le impulsa a correr a la selva, a aproximarse al lobo, "su hermano salvaje". Sólo el amor a su amo le mantiene entre los hombres; y cuando Thornton es asesinado por una cuadrilla de indios, corre al lado de sus salvajes hermanos, cantando con su aullido la canción de los días primitivos del mundo.
La llamada de la selva es la primera novela de Jack London, y en ella revela su fe en el evolucionismo biológico y en la omnipotencia del ambiente; a pesar de la tesis, el libro es completamente vivo: es vivo Buck, son vivos los demás perros, con sus heroísmos, sus ferocidades y sus ambiciones. No hay que asombrarse de que en la América de su época el libro consiguiese un gran éxito, llamando a los hombres industrializados y mecanizados al acre perfume salvaje del instinto y a la verdad primordial de la naturaleza y de la vida.
---
More from this collection