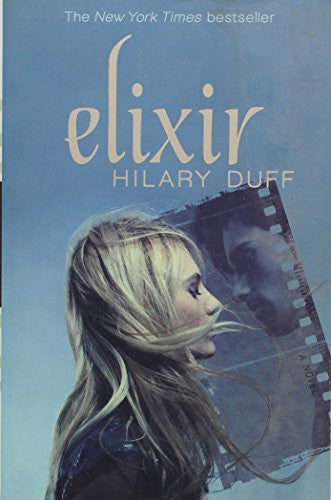 Hilary Duff
Elixir
Elixir  By Hilary Duff
VERY GOOD Condition ~ (Gently read. A remainder mark is present)
Clea Raymond is a talented photojournalist and the daughter of high-profile parents. Usually she's in total control of her camera, but after Clea's father disappears while on a humanitarian mission, eerie, shadowy images of a strange and handsome young man begin to appear in Clea's photos—a man she has never seen in her life. 

When Clea suddenly encounters this man in person she is stunned—and feels an immediate and powerful connection. As they grow closer, they are drawn deep into the mystery behind her father's disappearance and discover the centuries-old truth behind their intense bond. Torn by a dangerous love triangle and haunted by a powerful secret that holds their fate, together they race against time to unravel their past in order to save their future—and their lives.
Editorial Reviews
From School Library Journal
Gr 9 Up–Clea Raymond, 17, lives a charmed life. She travels the world with her best friend, Rayna, partying in countries near and far. Her mother is kept busy by her work as a United States Senator, but she loves her daughter with all her heart. And Clea has a cute guy trailing her every move–her bodyguard/voice of reason, Ben. Everything would be just perfect, except for the fact that her beloved father, a world-renowned surgeon, has gone missing while on a humanitarian mission in Rio. She can't stop thinking about him and his disappearance, and one night she stumbles onto something that might help her find him. Looking through photos she took on vacation, Clea notices a strange man who lurks in the background of every picture. Then, she starts having dreams about him. She's always a different woman in a different time period with him–and she always dies a brutal death. With the help of Ben, Clea travels to Rio to try and figure out the mystery behind her father's disappearance and the identity of the stranger in her pictures and her dreams. This entertaining book has a good mix of romance and suspense with a little reincarnation thrown in for good measure. Clea is caught up between the love she feels for the mystery man and the feelings she starts to have for Ben. Yet she soon figures out that there's more to this love triangle than she realizes. The fast-paced story will keep readers turning the pages until the very end, which hints of a sequel. Even those not impressed by the author's star power will enjoy this tale of love across the ages.–Traci Glass, Eugene Public Library, OR. (c) Copyright 2010. Library Journals LLC, a wholly owned subsidiary of Media Source, Inc. No redistribution permitted. --This text refers to an out of print or unavailable edition of this title.
Product details
Series: Elixir (Book 1)
Paperback: 336 pages
Publisher: Simon & Schuster Books for Young Readers; Reprint edition (June 7, 2011)
Language: English
ISBN-10: 1442408545
ISBN-13: 978-1442408548
Product Dimensions: 5.5 x 1.1 x 8.2 inches
Shipping Weight: 10.6 ounces
---
More from this collection