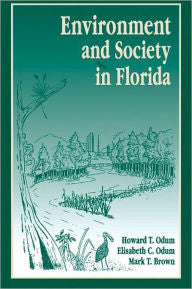 Howard T.;Odum, Elisabeth C.;Brown
Environment and Society in Florida By Howard T.;Odum, Elisabeth C.;Brown
Environment and Society in Florida  By  Howard T.;Odum, Elisabeth C.;Brown
Good Condition  (1998. Lewis Publishers. Good Condition. Cover has corner tip wear. Light amount of highlighting and notations in ink. Clean and bright. A Company stamp on title page.)
Overview
 With its lush wetlands, miles of beaches, and wide array of colorful wildlife, Florida is a fascinating and important ecosystem to study. Using this state as a model, Environment and Society in Florida offers a whole systems approach to understanding the environment and discusses the interactions between human systems and natural systems. It addresses the complicated issues stemming from these interactions among population, resources, economics, and environment, and discusses how we may better manage these challenges in the future.
Product Identifiers
ISBN-10         1574440802
ISBN-13         9781574440805
Key Details
Author Elisabeth C. Odum, Howard T. Odum, Mark T. Brown
Number Of Pages       472 pages
Format Paperback
Publication Date         1997-12-29
Language        English
Publisher         CRC Press LLC
Publication Year         1997
Additional Details
Copyright Date           1997
Illustrated        Yes
Dimensions
Weight            24.1 Oz
Height 1 In.
Width  6.2 In.
Length 9.2 In.
---
More from this collection