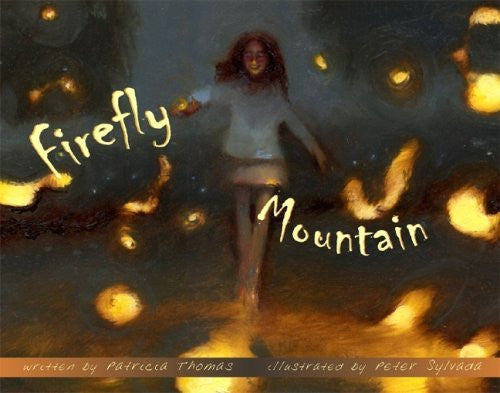 Patricia Thomas Jou Jou
Firefly Mountain
Firefly Mountain  By  Patricia Thomas Jou Jou
Good + Condition. (Creasing along the top edge of the dust jacket. First Edition. First Printing (Full Number line)
The narrator recalls a remarkable moment from a previous summerhow she waited patiently through a long, hot afternoon for night to fall so she and her family could make a nocturnal journey to the top of a hill to see an amazing sighta multitude of blinking, winking, twinkling fireflies lighting up a nearby mountain. Readers will be able to hear the whistles of the bobwhites and smell the sweet-dry clover hay in Thomas's richly detailed prose. Illustrator Peter Sylvadas stunning illustrations beautifully capture the wondrous tone of the story and the expectant childs sense of awe as she looks at the fireflies dance among the stars up on top of Firefly Mountain.
Editorial Reviews
From School Library Journal
Kindergarten-Grade 2—"The whole long, yellow afternoon/the sun boiled down so hot/the heat squiggled up in waves from the meadow." So begins a girl's story of one summer afternoon as she enjoys cool lemonade and the sweet smell of clover. She is torn between not wanting the afternoon to end, and longing for evening and the possibility of seeing a "firefly mountain." Thomas's prose is lyrical and engaging as she describes the sights, smells, and sounds of the fading afternoon and gradual coming of night, but Sylvada's oil-on-hardboard illustrations featuring browns and unnatural yellows lend the book a dreary rather than a dreamy quality. The blurred edges and indistinct shapes seem to distance readers from this experience rather than inviting them to engage with it. The magic of a summer night is better captured by Cynthia Rylant and Mary Szilagyi in Night in the Country (S & S, 1986).—Grace Oliff, Ann Blanche Smith School, Hillsdale, NJ 
Copyright © Reed Business Information, a division of Reed Elsevier Inc. All rights reserved.
About the Author
Patricia Thomas is the author of several picture books, including "Stand Back", Said the Elephant, "I'm Going to Sneeze!"; "There are Rocks in my Socks," Said the Ox to the Fox; and The One and Only, Super-Duper, Golly-Whopper, Jim-Dandy, Really Handy Clock Tock Stopper. She teaches writing for children at Marywood University and at the Institute for Children's Literature.
Peter Sylvada has illustrated three books: A Symphony of Whales (which was named a 1999 New York Times Book Review Best Illustrated Book, a NCSS/CBC Notable Children's Trade Book in the Field of Social Studies, and a NSTA/CBC Outstanding Science Trade Book for Children); Gleam and Glow (which was an IRA Notable Books for a Global Society) and Welcome, Brown Bird. He lives in California.
Product details
Age Range:5 - 8 years
Grade Level:Kindergarten - 3
Hardcover:32 pages
Publisher:Peachtree Publishers; First edition. edition (March 1, 2007)
Language:English
ISBN-10:1561453609
ISBN-13:978-1561453603
Product Dimensions: 3 x 0.4 x 8.6 inches
Shipping Weight:4 ounces
---
More from this collection