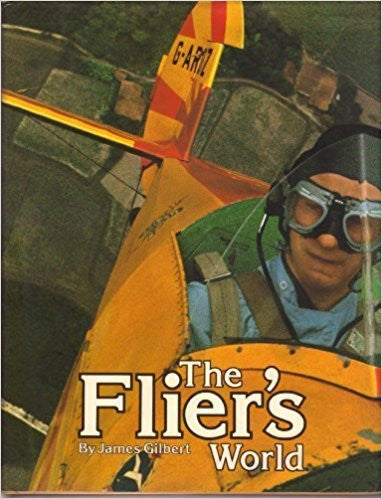 James Gilbert
Flier's World
Flier's World  By James Gilbert
Good Condition (1976. Ridge Press. Tight Binding. Clean, bright, and unmarked pages. Dust jacket has a piece of it missing at the top of the spine).
A RIDGE PRESS BOOK, 1976. JAMES GILBERT HAS FLOWN MORE THAN 100 KINDS OF AIRCRAFT, A LOT OF PHOTOS
 Filled with information as well as color and black & white photographs, any airplane afficianado or collector is going to love this very hard to find 1976 edition. The book covers the history of aviation including private aviation, military aviation, and commercial aviation. We particularly enjoyed the vintage photographs of planes like the Concorde supersonic jet, a Pan Am Boeing 747, and the many military jets and private planes and gliders that fill the book. Author James Gilbert has flown more than 100 kinds of aircraft and is well known for books and articles on flying in the U.S. and Europe. Feature sections include First Solo, Beginnings, How a Plane Flies, Air Space, Aerobatics, Destinations, On Silent Wings, Racing, Home Built Airplanes, Multi-engine Airplanes, Air Force Jets, and This is Your Captain which details operations on the flight deck of a 747. A Ridge Press Book published by Grosset & Dunlap.
Product details
Paperback:252 pages
Publisher:Random House (December 31, 1976)
Language:English
ISBN-10:0394494881
ISBN-13:978-0394494883
Package Dimensions: 9 x 8.7 x 1.2 inches
Shipping Weight:8 pounds
---
More from this collection