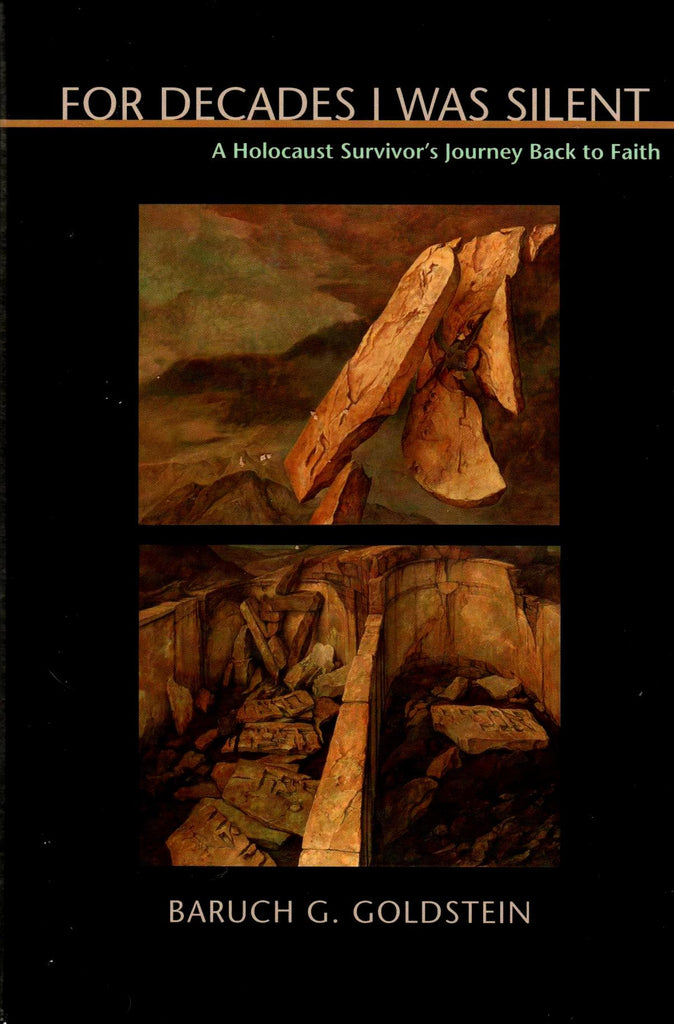 Baruch G. Goldstein
For Decades I Was Silent: A Holocaust Survivor's Journey Back to Faith (Judaic S
For Decades I Was Silent: A Holocaust Survivor's Journey Back to Faith (Baruch G. Goldstein)
Good Condition (Inscribed to former owner and SIGNED by AUTHOR, Baruch Goldstein. Clean and unmarked text pages. Dust jacket has scrape on the back. Solid binding.)
In 1939, Baruch Goldstein was a religiously observant adolescent resident of the Jewish community in Mlawa, a town that was then in East Prussia. After war broke out, the Jewish community there was relatively sheltered, as that region was incorporated into the German Reich rather than into the General Government (the German run-fragment of pre-war Poland, where conditions were harsh for everyone). However in 1942, Goldstein was sent to Auschwitz, where he stayed two-and-a-half years. His family was scattered all to their deaths, but he survived the war--barely. For Decades I Was Silent is an account of life in a small Polish-German town and provides information on the religious life of the Jewish citizens. This book creates a direct sense of the random, mystifying personal violence individuals felt at the hands of Germans--not the anonymous industrial death machine, but immediate, face-to-face violence.
 After the war, Goldstein drifted as a refugee to UNRR camps in Italy. Over time, young Goldstein had to face the fact that all of his extended family was lost and he had only the possibilities of Palestine or help from distant relatives in the United States as a future. His American relatives urged him to enter the United States as a yeshiva student, and eventually he became a rabbi and started a family. As a young rabbinical student, and then as a rabbi, Goldstein was forced to confront the events of the Holocaust and the damage done to his faith. This well-written and evocative book eloquently handles Goldstein's story.
 Baruch Goldstein was a Hebrew teacher and a Youth Director at Congregation Beth Israel in Worcester, Massachusetts. Staing in the mid-1960s, he was the rabbi and the Education Director at Temple Emmanuel in Wakefield, Massachusetts. Since his retirement, he has traveled widely as a speaker on the Holocaust.
 "What distinguishes this well-written and moving account of surviving the Nazi Holocaust in Nazi occupied Poland from the many similar memoirs is that Baruch Goldstein is a believer. His faith was challenged by his experiences during the war, but it was not undermined, and after the war he became a practicing rabbi. This volume fills an important gap in Holocaust-memoir literature."
--Antony Polonsky, Albert Abramson Chair of Holocaust Studies, Brandeis University and the United States Holocaust Memorial Museum
 "There are not many Holocaust memoirs out there that cover the pre-war life and span all the way into the present day. This very personal memoir delivers a breadth of coverage."
--Helene J. Sinnreich, Director of Judaic and Holocaust Studies, Youngstown State University.
Product Identifiers
ISBN-10         0817357432
ISBN-13         9780817357436
 Key Details
Author Baruch G. Goldstein
Number Of Pages       208 pages
Series   Judaic Studies
Format Paperback
Publication Date         2015-07-15
Language        English
Publisher         University of Alabama Press
Publication Year         2015
 Additional Details
Edition Number          2
 Dimensions
Weight            0 Oz
Height 0.7 In.
Width  6 In.
Length 9 In.
---
More from this collection