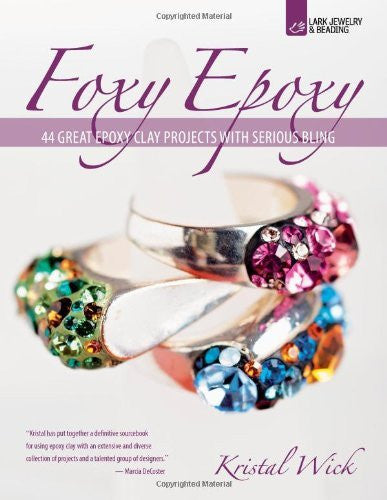 Sterling Publishing
Foxy Epoxy: 44 Great Epoxy Clay Projects with Serious Bling
Foxy Epoxy: 44 Great Epoxy Clay Projects with Serious Bling
Very Good Condition. (Glossy cover show very little wear. Text pages are clean and unmarked. )
What's the hottest new trend among beaders for making fun, fashionable jewelry? Epoxy clay! Foxy Epoxy explores the unlimited potential of this fun material. It's so easy to work with: just mix, model, and embellish. There's no need for baking or firing. Popular author, blogger, and designer Kristal Wick covers all the basics, from the minimal equipment needed to the simple techniques. Forty fabulous projects—20 by Wick and 20 by other leading designers such as Candie Cooper, Margot Potter, Jean Campbell, and Andrew Thorton—will inspire crafters of all levels.
Editorial Reviews
Review
 "Anyone with a small amount of jewelry making experience could learn something here…Plus, for those who have lot of bead stringing, bead weaving, wire working, or other types of jewelry experience but have wanted to do something a little different, I think there is a lot in this book to offer them since they can combine epoxy clay with whatever jewelry they are already making." —About.com Jewelry
 About the Author
 Kristal Wick, an international award-winning designer and one of the CREATE YOUR STYLE with SWAROVSKI ELEMENTS Ambassadors, is the author of Fabulous Fabric Beads (Interweave). She has created two DVDs, Mixed Media: Beaded Bracelets with Fiber Beads and Crystals, Resin, and Wire and Mixed Media: Jewelry Making with Handmade Beads, Crystals, Resin, and More! Kristal has appeared on HGTV and on the PBS shows Beads, Baubles and Jewels and Quilting Arts. Her designs have been featured in over 30 magazines and publications. Wick lives in Seattle, WA. Learn more at kristalwick.com.
Product details
Paperback:136 pages
Publisher:Lark Crafts (June 4, 2013)
Language:English
ISBN-10:1454707585
ISBN-13:978-1454707585
Product Dimensions: 9 x 8.4 x 0.5 inches
Shipping Weight:2 pounds
---
More from this collection