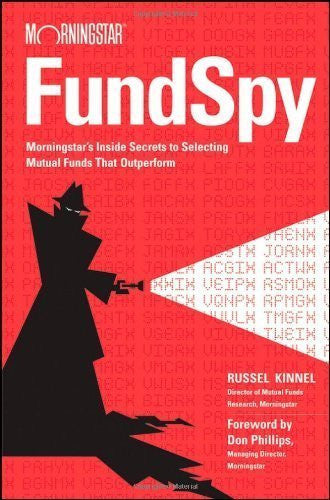 Russell Kinnel
Fund Spy: Morningstar's Inside Secrets to Selecting Mutual Funds that Outperform
Fund Spy: Morningstar's Inside Secrets to Selecting Mutual Funds that Outperform Hardcover March 9, 2009  By Russell Kinnel
Good Condition  (Some pages towards the back have minor water damage. Very little wear to the dust jacket. No underlining or highlighting.)
Author Russel Kinnel walks readers through the handful of key factors they need to pick winning funds. Armed with the quantitative data and qualitative research, they will gain the confidence to pick great funds for the long-term. This book will be accompanied by a web-based tool created by Morningstar, which will enable readers to evaluate their own funds using Kinnel's criteria.
Written in a fun and accessible manner, The Fund Spy offers Kinnel's unique insight as a 14-year Morningstar fund analyst. He speaks plainly about the conflicts that can go against investors' interests, explaining how to avoid traps and push out the slick sales pitches facing today's investors. He also offers several "10 lists," which provide quick answers to investors' most common questions (e.g., the Top 10 Funds to Recommend to Relatives, the 10 Best Contrarian Managers, the 10 Most Overrated Managers).
Editorial Reviews
From the Inside Flap
If you're serious about picking the right investments for yourportfolio, Fund Spy will put you on the right track.
 Nobody is more familiar with mutual funds than author RusselKinnel, the Director of Mutual Fund Research for Morningstar, Inc.and Editor of Morningstar(R) FundInvestor, a monthly newsletterfor individual investors. He has spent over 15 years researchingmutual funds and meeting with the people who manage them. Now, withFund Spy, he offers unparalleled guidance that will sharpen yourinvesting skills and help you find the best funds for yourportfolio.
 Filled with in-depth insights and expert advice, Fund Spy armsyou with the information needed to intelligently screen and selecta variety of funds. While both effective new strategies andtime-tested techniques are outlined throughout this reliableresource, all of the methods here will help you avoid commonmistakes and outperform the average investor.
 Page by page, Fund Spy puts this process in perspective withdetailed discussion of:
How to find managers who invest millions of their own money intheir funds
Why fund expenses really matter
Using a fund's performance to understand its risk and rewardprofile, as well as its behavior in different types of markets
How to find great fund managers and teams
And much more
 Combining quantitative data with qualitative research, Kinnelhighlights key factors that drive fund performance and writescandidly about the industry's conflicts of interest that can harminvestors.
 Don't settle for high-cost, poorly run funds simply because theyfell into your portfolio or someone is touting them. Follow theguidance found in Fund Spy and you'll quickly discover what ittakes to research and buy the right funds. Three months from now, you may not see a difference, but you will see a dramaticdifference in five or 10 years, when the power of compounding hassubstantially grown your portfolio and put more money in yourpocket.
 From the Back Cover
Many people spend more time researching purchases like cars and computers than they do figuring out how they will invest their money. Although buying a car or computer may be more fun, choosing the right investments can significantly impact your life—whether it be retirement or your kids' college education.
 Picking funds that will outperform their peers over the long haul may take a little time, but in the end, you'll be better off for it. That's why Russel Kinnel—Director of Mutual Fund Research for Morningstar, Inc. and Editor of Morningstar® FundInvestor—has written Fund Spy. With a straightforward and accessible style, this book offers unparalleled guidance that will sharpen your investing skills and help you find the best funds for your portfolio.
Product details
Paperback:192 pages
Publisher:Wiley; 1 edition (March 2, 2009)
Language:English
ISBN-10:1119110068
ISBN-13:978-1119110064
Product Dimensions: 1 x 0.4 x 9.2 inches
Shipping Weight:13 ounces
---
More from this collection