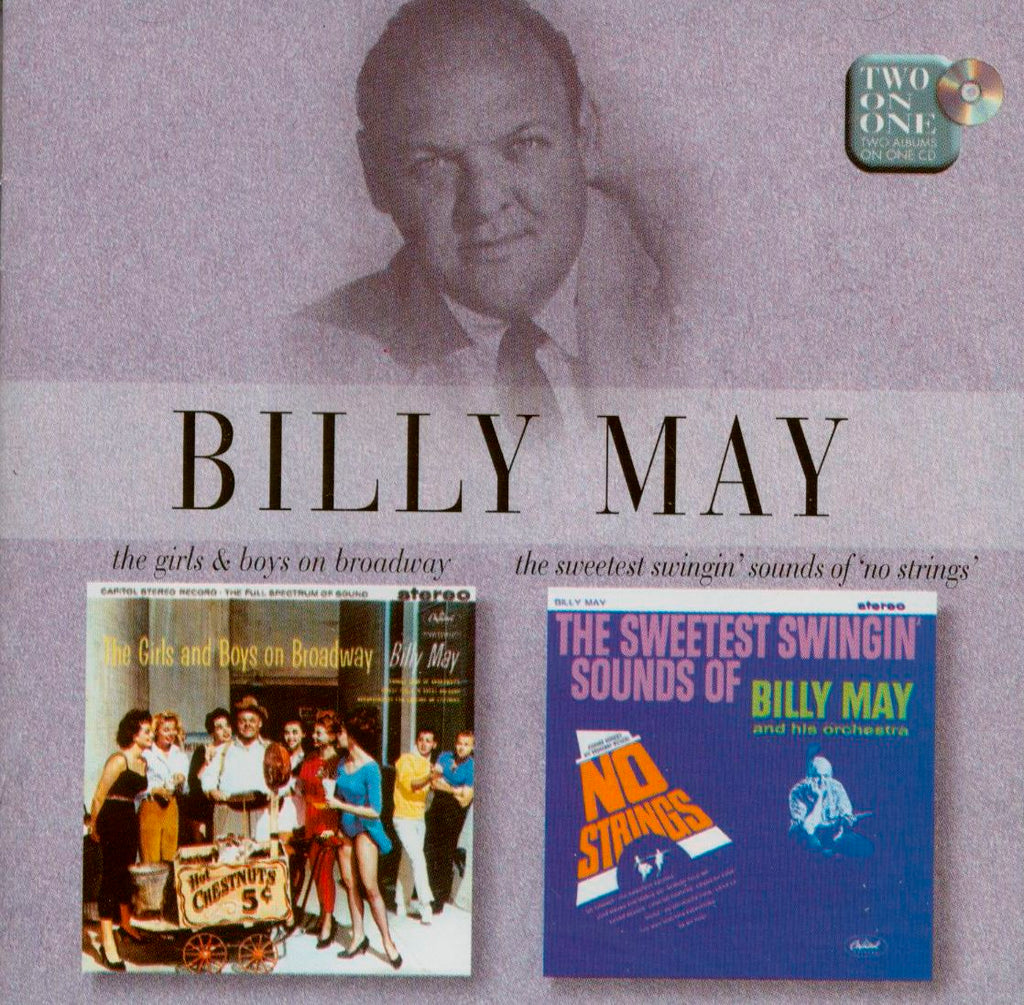 Billy May
Billy May - Girls & Boys on Broadway / Sweetest Swinging Sounds of Billy May
Girls & Boys on Broadway / Sweetest Swinging Sounds of Billy May
By Billy May
Good + Condition. (Small, plain white sticker on the inside of front insert. Includes Cd and jewel case both in VERY good condition.)
Orchestra leader Billy May getts the two-fer treatment on this compact-disc release from 1999. Part of their 100-year-celebration release series.
The irascible Billy May, premire arranger and conductor for so many of the greats, and on his own, is presented here with two of his albums for Capitol on one great CD. May's popularity rose for his dance albums, and that got him on board at Capitol to do some arranging and conducting. A favorite of the likes of Nat King Cole and Frank Sinatra, needless to say those guys were no fools when it came to working with the best! His trademark lazy sax music and sharp brash arrangements for brass are probably the most recognizable of the era. But Billy wasn't all about swingin'; he could write a heartwarming slow ballad chart with equal ease (but somehow always found a way to get a brass blast in there somewhere!) The lusty undertones of WHERE DID WE GO? OUT! is one of the lesser known standouts on the GIRLS AND BOYS ON BROADWAY sides, which is worth the price of this CD just for the album cover (Billy May parading as a vendor selling chestnuts to the "cast kids"!) but there are other greats here, like Billy and the orchestra's reading of Frank Loesser's masterpiece GUYS AND DOLLS and the lovely TILL THERE WAS YOU from The Music Man, a tune Billy would later arrange for the great multi-octaved singer, John Gary with a similar chart.
While the NO STRINGS sides are, as my fellow reviewer mentions, not as exciting, they are still Billy May...and that means original and inventive, if nothing else! I love what is done with the charming LOOK NO FURTHER. The mood is perfectly captured and the slightest essence of swing is there (complete with the aforementioned "brass blast" on the bridge!) and the smart version of THE MAN WHO HAS EVERYTHING is also not to be missed. MAINE and LOVE MAKES THE WORLD GO are two more of Richard Rodgers' fine songs that make the NO STRINGS sides valuable. Great "two-fer" to have in your collection!
Track Listings
  1. Girls Against The Boys
  12. I've Never Been In Love
  16. Love Makes The Worlsgo
  24. Man Whose Has Everything
---
More from this collection