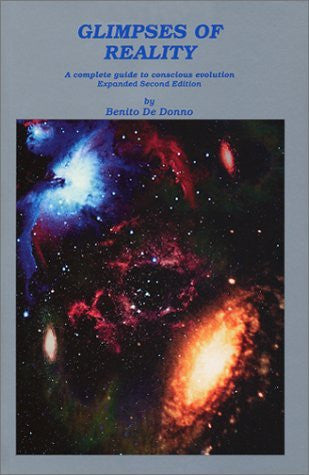 Benito De Donno
Glimpses of Reality
Glimpses of Reality  By Benito De Donno
GOOD condition. (Tight Binding. Bright and white) One word was highlighted (that I saw) but there may be more. Cover is nice and shiny and in Very Good condition, with one light crease on the back)
The three main topics of the book are: science, health an spirituality. The book tries to explain many of the mysteries of the universe, together with probing into the meaning of life and the purpose of Creation. It also explains what 'happiness' is and how to find it.
Editorial Reviews
Review
Glimpses of Reality is possibly the best book that I have ever read. I keep reading over and over. Hatcher -- Email by reader from Covina, California

Glimpses of Reality is simply amazing. It represents a true masterpiece. -- Email from Alessandro Angella--Environmental Engineer--Rome, ITALY

Glimpses of Reality is the best books I ever came accross. I have just read it for the third time. -- Email from Paul Nison-Author of "The Raw Life"
From the Author
Health and spirituality are two of the top concerns among today's readers. More and more individuals are taking increasing responsibility for their health and are seeking holistic answers to their health problems. Conventional medicine has failed many, and the cause and treatment of many diseases remain poorly understood. This book provides a totally new perspective on disease, with clear directions on how to permanently prevent and conquer illness. It also explains how to achieve lasting happiness, and explores the true nature of reality on this and other dimensions. Providing a detailed explanation of the spiritual world, Glimpses of Reality also answers many of life's hitherto unexplained mysteries, and is sure to appeal to the rapidly growing number of truth seekers. --This text refers to an out of print or unavailable edition of this title.
Product details
Paperback:400 pages
Publisher:Knowledge Publications (August 5, 2001)
ISBN-10:0968487718
ISBN-13:978-0968487716
Package Dimensions: 4 x 6.2 x 1.1 inches
Shipping Weight:3 pounds
---
More from this collection