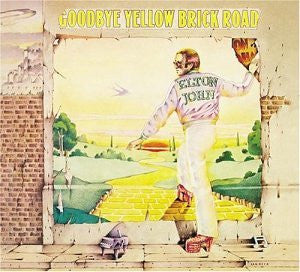 Elton John
Elton John - Goodbye Yellow Brick Road
Goodbye Yellow Brick Road (w/ Bonus DVD)
 By Elton John
Very Good Condition   ( TESTED CD's and DVD are FROM OUR PRIVATE COLLECTION ~ played only a few times. The Case is in  very good condition with all the Original Artwork and Original Case.)
 Goodbye Yellow Brick Road is the seventh studio album by Elton John, released in 1973. The album proved to be extremely popular, selling over 30 million copies worldwide, and is regarded as one of his best. It was recorded at the Château d'Hérouville in France after problems recording at the intended location of Jamaica. Among the 17 tracks, the album contains the hits "Candle in the Wind", "Bennie and the Jets", "Goodbye Yellow Brick Road" and "Saturday Night's Alright for Fighting" plus "Funeral for a Friend/Love Lies Bleeding" and "Harmony".
 Originally intended as a regular single album, the experience in transferring from Jamaica to the château proved to be conducive to producing such quality material that it was released as a double album.
 In 2003, the album was inducted into the Grammy Hall of Fame. The album was ranked number 91 on Rolling Stone magazine's list of the 500 greatest albums of all time,[5] and number 59 in Channel 4's 2009 list of 100 Greatest Albums.
Editorial Reviews
This new edition of Elton John's classic album has been remastered is CD and SACD 6.1 Surround sound. Also included are three 'B' sides not on the original album, in fact, never previously included in any version of "Goodbye Yellow Brick Road". The DVD
Track Listings
  1. Funeral for a Friend/Love Lies Bleeding
  4. Goodbye Yellow Brick Road
  5. This Song Has No Title
  8. I've Seen That Movie Too
  2. The Ballad of Danny Bailey (1909-1934)
  4. All the Young Girls Love Alice
  5. Your Sister Can't Twist (But She Can Rock 'N Roll)
  6. Saturday Night's Alright for Fighting
  10. Whenever You're Ready (We'll Go Steady Again) [*]
  12. Screw You (Young Man's Blues) [*]
  13. Candle in the Wind [Acoustic Version][#][*]
---
More from this collection