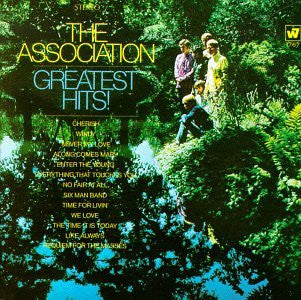 The Association
Association - Greatest Hits!
Greatest Hits!  
By The Association
Good +++ to Very Good Condition ~ (From OUR PRIVATE COLLECTION ~ Disc has rarely been played ~ Case, and original Inserts are in Very Good Condition.)
Beyond representing the best in '60s California pop, the Association blazed trails in album production and the folk-psychedelia genre. With the guidance of L.A. producers Bones Howe, Curt Boettcher, and Jerry Yester, the band deftly mixed airy harmonies, unobtrusive rhythm tracks, and subtle "Age of Aquarius" accents from harpsichords, Farfisa organs, fuzz-box guitars, trumpets, and bongos -- at times, the sophisticated blend was held together by L.A. session players. And while the group successfully expanded their harmonic horizons on "Requiem for the Masses," they also went a bit beyond their strengths with Jefferson Airplane-esque rockers like "Six Man Band." Luckily, the majority of this hits collection focuses on the band's dreamy combination of polished folk, limber vocal arrangements, and wide-screen instrumental backdrops. The summery program also includes chart-toppers like "Windy," "Cherish," "Along Comes Mary," and "Never My Love," along with progressive pop-and-harmony tracks like "No Fair at All," "Everything That Touches You," and "Time for Livin'." A great introduction to the band's prime work from the latter half of the '60s.
Tracklist
1          The Time It Is Today  2:15
2          Everything That Touches You            3:17
3          Like Always    3:04
4          Never My Love           3:07
5          Requiem For The Masses        4:06
6          Along Comes Mary     2:35
7          Enter The Young        2:43
8          No Fair At All 2:35
9          Time For Livin'           2:43
10        We Love         2:23
11        Cherish            3:25
12        Windy 2:49
13        Six Man Band 2:13
---
More from this collection