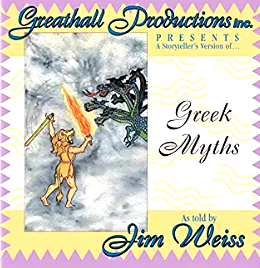 John Weiss
John Weiss - Greek Myths
Greek Myths  
By John Weiss
Very Good Condition. (Includes Original artwork, jewel case and Cd.)
This introduction to Greek mythology makes Hercules, King Midas, Perseus and Medusa understandable to children.
Jim Weiss' fascinating retellings retain the action and adventure of the originals, while emphasizing character over violence.
Editorial Reviews
About the Author
Jim Weiss's story recordings and books offer a welcoming doorway into the world's greatest stories from literature and history. His vivid retellings of the classics have received more than one hundred major awards from organizations such as the American Library Association, Parents' Choice Foundation, Oppenheim Toy Portfolio, and Film Advisory Board. More importantly, the stories form the heart of daily learning and meaningful entertainment in households and schools around the world.To hear Jim tell a story is to become swept up in the tale. He includes information about people and events behind the stories, and encourages children to read the original classics, on their own or with the help of more experienced readers. So listeners leave the storyteller's circle inspired to learn even more and to develop their own creative gifts. Jim Weiss believes the joy of reading, writing and creative activity begins in the presence of the storyteller.For performance availability, distribution information, or additional titles, please visit www.welltrainedmind.com or www.jimweiss.com.
King Midas & The Golden Touch
Arachne
Perseus and Medusa
Adventures of Hercules
Product details
Audio CD
Publisher: The Well-Trained Mind Press; 1 edition (October 1, 2015)
Language: English
ISBN-10: 194296871X
ISBN-13: 978-1942968719
Product Dimensions: 5.7 x 0.4 x 5 inches
Shipping Weight: 1 pounds
---
More from this collection