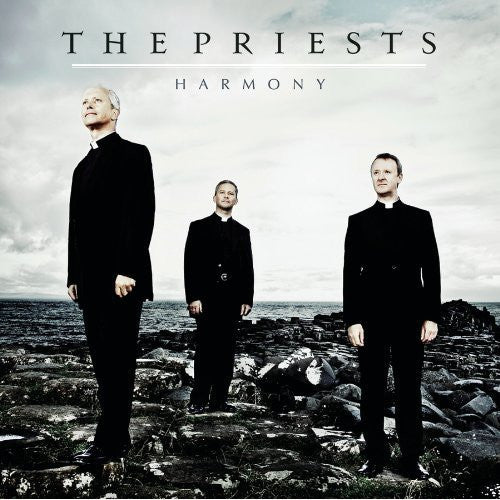 THe Priests
The Priests - Harmony
Harmony  
By The Priests
Very Good Condition. Includes Original artwork, jewel case and Cd.
The Priests, a trio of bona fide men of the cloth from Northern Ireland, experienced massive success with their eponymous debut album in the British Isles, all over continental Europe, in Australia, and New Zealand, and even to a degree in the less crossover-friendly U.S. Crossover is not just a question of popular-classical musical interchange, but also, often, of a mixing across social boundaries: operatic vocalists let their hair down and perform Broadway tunes, insurance salespeople belt out arias. The notion of priests as recording stars represents a clever manipulation of this tendency, and the three singers involved here are well suited to the tasks their producers give them. The repertoire (all sacred, naturally enough) moves from popular hymnody like "How Great Thou Art" (whose Swedish, not American, origins are stressed in the booklet) and Amazing Grace to excerpts from Pergolesi, Mozart, Mendelssohn, Karl Jenkins, and more, with Rodgers and Hammerstein's "You'll Never Walk Alone" as a slam-bang finale. Their trio singing isn't spectacularly successful or powerful anywhere, but neither do they sound uncomfortable at any particular point; like any good priests, they sense the value in what they're saying and singing for the audience at hand, and they find a way to deliver it effectively. They use old and new arrangements as part of the process of reducing a variety of music to vocal trio; the nineteenth century arrangement of Amazing Grace is noteworthy, but the misspelling of the name of the arranger, Edwin Othello Excell, is just one of a number of amateurish errors in the booklet (in English only). The sound was recorded in various locations, and the mastering is inadequate; "Silent Night," especially, seems to jump out of its surroundings. Still, the idea of priests holding forth on disc with a variety of sentimental sacred favorites promises to generate more than a one-hi
Track listing
"How Great Thou Art"
"Te Deum"
"Gaelic Blessing"
"Amazing Grace"
"Bist du bei mir  (When Thou Art Near)"
"Benedictus"
"Stabat Mater"
"Laudamus Te"
"Ave Verum Corpus"
"King Of Kings"
"Lift Thine Eyes (From Elijah)"
"Silent Night"
"The Lord's Prayer"
"Bí Íosa Im Chroíse"
"You'll Never Walk Alone"
---
More from this collection