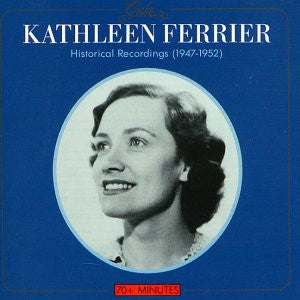 Kathleen Ferrier
Kathleen Ferrier - Historical Recordings 1947-1952
Historical Recordings 1947-1952
By Kathleen Ferrier
Very Good Condition
A Review:
Great to see KF on vinyl again after all these years (save for one side of a single). Collected together in one double L.P. are some of her great recordings from both Decca and EMI. However, the rear of the sleeve contains silly mistakes, like, incorrect recording date and the crediting of the wrong conductor for side two (this is also wrong on the label but is correct (Walter Bruno) on the front cover).
Don't be fooled by the Direct Metal Mastering and Digital Re-mastered slogans on this or any other disc, they mean nothing.
It's the source material that counts; unfortunately this is not perfect particularly side 1. It suffers badly from micro-editing (the tell-tale sign is the 'plerp' sound after each edit. this is due to the peek of the crack or pop being removed leaving a residue caused by resonances or ringing in the playback system (mechanical) and also in any tuned circuits in the preamp/equalizer (electrical).
All this said its still good value. For the die hard fan you will have all of these recordings already but if anyone out there wants to hear a real vocalist, without the aid of modern studio tricks (Autotune etc) that make it sound reasonable; buy this.
Track Listings
  1. Altrhapsodie Op. 53 - Alto Rhapsody Op. 53

  2. Kindertotenlieder (Ruckert): Nun Will Die Sonn' So Hell Aufgeh'n

  3. Kindertotenlieder (Ruckert): Nun Seh' Ich Wohl, Warum So Dunkle Flammen

  4. Kindertotenlieder (Ruckert): Wenn Dein Mütterlein Tritt Zur Tur Herein

  5. Kindertotenlieder (Ruckert): Oft Denk' Ich, Sie Sind Nur Ausgegangen

  6. Kindertotenlieder (Ruckert): In Diesem Wetter, In Diesem Braus

  7. Matthaus - Passion BWV 244 - St. Matthew Passion BWV 244: Grief For Sin

  8. H - Moll Messe BWV 232 - Mass In B Minor BWV 232: Agnus Dei

  9. Der Messias - Messiah: Oh Thou That Tellest Good Tidings To Zion

  10. Der Messias - Messiah: He was despised

  11. Samson: Return O God Of Hosts

  12. Judas Maccabaus - Judas Maccabaeus: Father of Heaven

---
Product details
Audio CD (December 1, 2003)
SPARS Code: DDD
Number of Discs: 1
Format: Import
Label: Ais
ASIN: B00011D1T0
---
More from this collection