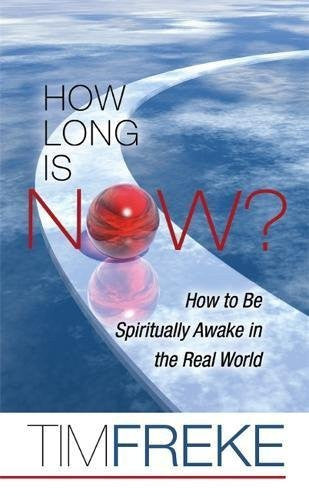 Tim Freke
How Long Is Now?: How to be Spiritually Awake in the Real World
How Long Is Now?: How to be Spiritually Awake in the Real World  By:  Tim Freke 
Good Condition. (Cover is shiny but shows light corner wear. Highlighting and notations throughout)
In this unique and exhilarating book, stand-up philosopher Tim Freke shares his own amazing journey of awakening to the ecstasy of oneness and the bliss of big love. He offers profound insights and simple wake-up techniques to gently guide anyone ever more deeply into an experience of being spiritually awake in the real world.
How Long is Now? is a book that can transform everyday life into a wonderful adventure full of meaning, miracles, and magic. As Tim explores his own journey he clarifies a host of common misunderstandings about what it is to be 'spiritual'. He also offers wisdom about love, romance, and relationships and he presents a radical new understanding of death. Full of warmth, laughter, tears, vitality, and style, How Long Is Now? is a timeless book to be savoured and treasured.
A Review:
To all those spiritual seekers out there, reading book after book to find "the answer" (like myself): This book is "the answer", or the closest to that answer I have found in written form so far. The author makes connections and draws convincing conclusions that I have never seen made/drawn before. One of his central messages is that "self" and "Self" can exist, in fact they need to exist, simultaneously. In the process of demonstrating his ideas, the author manages to transcend the life-negating aspects of many traditional mystical philosophies, which he has studied in depth. He presents a convincing explanation of after-death existence, also. He seems completely honest--almost uncomfortably so sometimes. He may be guilty of continuing the abuse of the most-abused word in the English language--"love". BUT READ THIS BOOK!
---
More from this collection