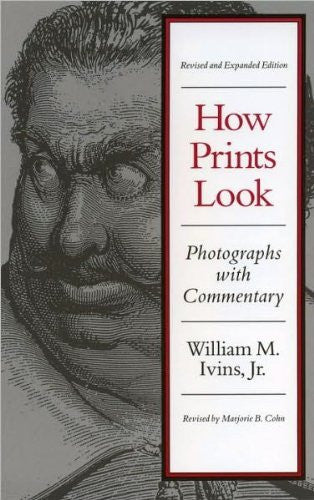 William M. Ivins Jr.
How Prints Look (text only) Revised edition by W. M. Ivins
How Prints Look (text only) Revised edition by W. M. Ivins
Good Condition (Creasing to cover and a few pages. Text is without underlining or highlighting. Notations and name written inside cover back and title page.)
This unique book is the classic introduction to appearances of various types of prints and the techniques involved in producing them. Combining a rich selection of illustrations with explanatory commentary, the revised edition also includes a new introduction, additional illustrations, and a bibliography.
Editorial Reviews
Review
'The most famous introduction to prints. Through a series of enlarged details of prints in various media, Ivins makes clear the stylistic qualities peculiar to each technique.' - Choice
About the Author
William M. Ivins Jr. was the curator of prints at the Metropolitan Museum of Art from 1916 to 1946.

Marjorie B. Cohn is the Phlip and Lynn Straus Conservator of Works of Art on Paper and head conservator at the Center for Conservation and Technical Studies, Harvard University Art Museums. 
Product details
Paperback:200 pages
Publisher:Beacon Press; Revised edition (August 15, 1987)
Language:English
ISBN-10:0807066478
ISBN-13:978-0807066478
Product Dimensions: 5 x 0.4 x 8.5 inches
Shipping Weight:6 ounces
---
More from this collection