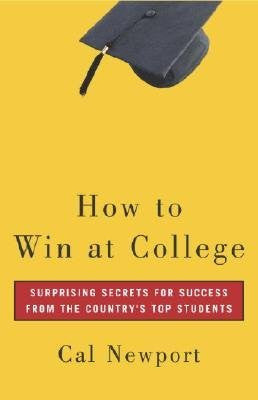 Cal Newport
How to Win at College: Simple Rules for Success from Star Students
How to Win at College: Simple Rules for Success from Star Students  By Cal Newport
Good Condition   (2005. Unmarked text. Light tanning on the inside of the cover. Solid binding. Mild wear to cover. Cover lays flat
The only guide to getting ahead once you've gotten in—proven strategies for making the most of your college years, based on winning secrets from the country's most successful students

What does it take to be a standout student? How can you make the most of your college years—graduate with honors, choose exciting activities, build a head-turning resume, and gain access to the best post-college opportunities? Based on interviews with star students at universities nationwide, from Harvard to the University of Arizona, How to Win at College presents seventy-five simple rules that will rocket you to the top of the class. These college-tested—and often surprising—strategies include:

• Don't do all your reading
• Drop classes every term
• Become a club president
• Care about your grades, Ignore your GPA
• Never pull an all-nighter
• Take three days to write a paper
• Always be working on a "grand project"
• Do one thing better than anyone else you know

Proving that success has little to do with being a genius workaholic, and everything to do with playing the game, How to Win at College is the must-have guide for making the most of these four important years—and getting an edge on life after graduation.
Product details
Paperback:193 pages
Publisher:Three Rivers Press; unknown edition (April 12, 2005)
Language:English
ISBN-10:0767917871
ISBN-13:978-0767917872
Product Dimensions: 2 x 0.4 x 8 inches
Shipping Weight:2 ounces
---
More from this collection